News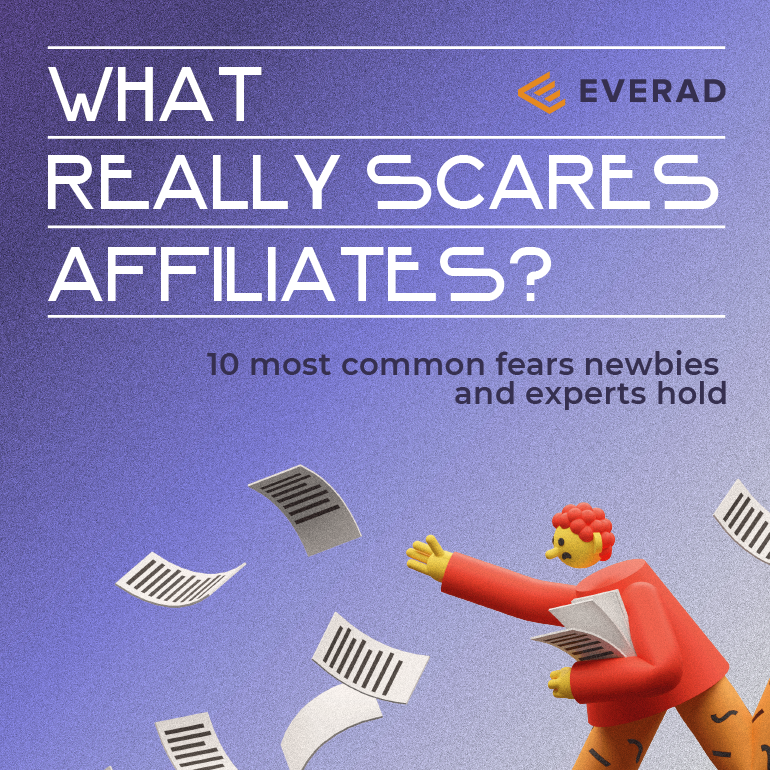 10 most common fears newbies and experts of affiliate marketing hold
Each person has some phobias. Some people are afraid of heights and some have a fear of being poor or being alone forever… the list is endless.
What about affiliates? What really scares these people on their way to profit and money? Here is the list of TOP -10 fears each newbie and expert has ever felt.
Fear 1 – Go into the red
This is probably the most common fear of each affiliate. Both beginners and experts are afraid of wasting money and traffic. You may spend a lot of time and all the money, make every effort, but still, there will be no result and no profit.
Fear 2 – No conversion rate
The concern lies in the fact that consumers may not like the new package or product composition. People usually become accustomed to the product and its appearance. In this case, any sharp change may cause confusion and mistruth. As a result, the number of requests may fail and you will face the fear of going into the red.
Fear 3 – Combination fail
In this case, an affiliate worries that the combination that he took from the network may not be effective. He may spend time and money, run a campaign but it will bring no leads at all.
You may forget about this fear if you work with Everad! All the landing and transit pages are carefully translated according to each country. We permanently update combinations and your manager will provide the best combo according to your request. Moreover, do not forget to perform tests before you start a campaign.
Fear 4 – Account ban
Weight loss, joints or any other niche have some peculiarities. You should take them into account while starting your campaign. If an affiliate works with a fungus niche and then decides to deal with weight loss offers, he will have some concern that the usual methods may not work.
Fear 5 – No approve
One more nightmare of an affiliate is no approve. For example, you worked very hard and got a big number of requests. Everything seems to be good. The call-center member processes all the requests and works with the leads. And you may have some doubts. What if the call center fails and you will have no profit?
We would like to calm you down – the workers of our call-centers are native speakers who received training. It may increase customer loyalty.
We have already announced our new useful feature, called cancellations which is aimed to re-engage old (refused) leads. If during the first call the client refused to buy the product, the CC operator will contact the customer again to offer more favorable conditions. You may find more information HERE.
Fear 6 – Troubles with an approach
In this case, an affiliate does not understand the problems and needs of the target audience. This is particularly relevant with an unusual topic: hernia, candidiasis, etc.
Our advice is to explore your target audience and the problems which solve the product.
If you are a newbie, it is better to work with white hat offers and simple niches. It can be joints or varicose.
Fear 7 – Incorrect approach
Many affiliates think that customers will not be interested in the product if an approach is too soft or neutral. A rigid approach may scare the customer. If you write that papillomas are dangerous and incurable, this fact may be questionable for your TA. You should be careful. Do not overdo and keep the balance.
Fear 9 – Low payouts
Сompetitive conditions are key to success for affiliate networks. As a direct advertiser, Everad works with affiliates without intermediaries and can provide very profitable terms. Keep in touch with your manager. He/she may provide individual terms.
Fear 10 – Problems with cloaking methods
This problem may occur when an affiliate starts working with the new niche. If you have no idea how to start a successful campaign, contact your manager.
How to overcome fear and start a successful campaign?
We have described above the most common fears of affiliates. Of course, the success of each webmaster depends on different factors, only on the knowledge and skills of an affiliate. You should make an effort rather than rely on luck.
Spend some time investigating forums, websites and chats. You should not only learn the product but also do research on your target audience. Perform tests of the approaches, combinations and creatives. It is better to spend a little money, than waste the budget. Do not copy case studies of other webmasters. You may use case studies for inspiration to create your own product.
One more thing! Do not forget to contact your manager. He/she will definitely help you with the best combination, translations and other routine questions.
Don't miss the chance to become part of a friendly affiliate family! Welcome to the EveradChat: https://t.me/everadchat