Everad Academy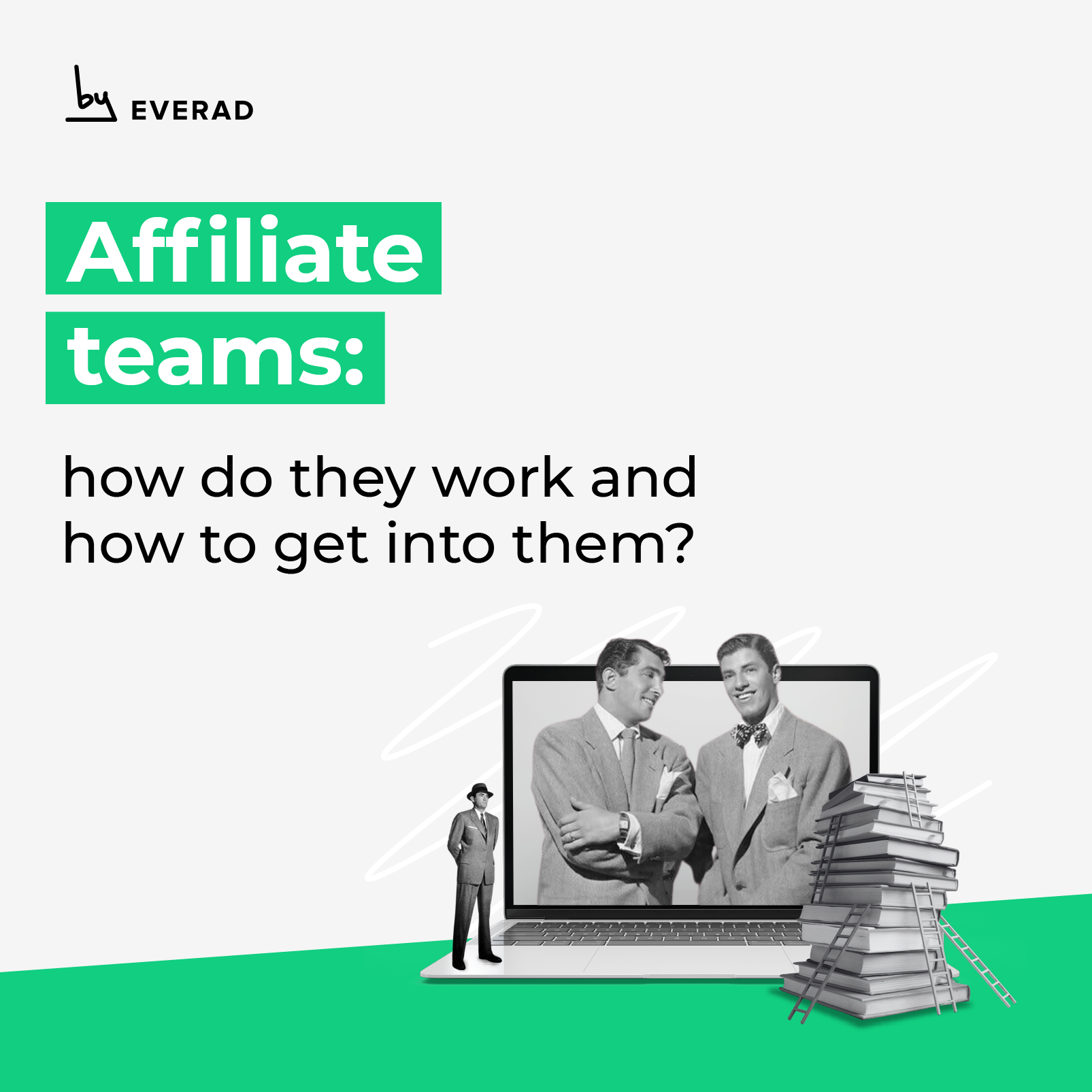 Affiliate teams: how do they work and how to get into them?
Going solo is getting more complex every year. Because of this, many affiliates join teams – we will talk about them today!
In this article, you will learn what a team affiliate is, its hierarchy, and how to get into a team.
Let's start!
What is a team affiliate, and why is it needed?
Affiliate teams are teams of webmasters and other professionals who together promote offers. Teamwork is very different from solo bays.
Teams have their hierarchy. Each member of the team does what he does best. Because of this, connections made as a team often turn out to be more profitable than solo affiliates.
Teamwork offers many benefits:
General budget. Because advertising is bought from the available budget, the volumes of the bay are increasing! Also, due to the joint budget, you can buy trust instruments, and it is easier to pay off other expenses;
Delegation of duties. Everyone on the team does what they do best. For example, one webmaster produces excellent creatives, while another understands the creation of sites. This raises productivity and the chance of a good traffic run;
Experience exchange. People in affiliate teams can share experiences. This increases the skills of both an individual affiliate and the entire team. Also, it is easier for beginners to learn in a team with experienced webmasters than alone;
Increasing competitiveness. The complexity of arbitrage and competition is constantly growing. In such conditions, it is more challenging to enter highly competitive markets. Working in a team takes some of the load off the affiliate and closes gaps in knowledge;
Work with advertisers and PPs on more favorable terms. Affiliate programs and advertising networks often give more favorable conditions to teams.
But working in a team has a disadvantage – the lack of freedom. For example, you may be given a normalized schedule or asked to promote the offer differently than you originally wanted.
In the next section, we will discuss affiliate team roles!
Positions in the affiliate team
Teams have multiple roles. The role determines the type of activity, duties, requirements, salary, etc.
In this section, we will tell you more about the positions!
Farmer
Farmers are engaged in account preparation and small tasks that are not distracted by more experienced team members. For example, besides warming up accounts, a farmer can prepare texts or collect data, put down UTM tags, and do other simple tasks.
Most often, farmers are novice affiliates.
The farmer's responsibilities include:
Creating and warming up accounts. Farmers buy up reports and warm them up for the comfortable work of a media buyer;
Small assignments. All tasks other team members cannot handle are transferred to the farmers.
Farmer is the most specific role to get. To qualify for this position, you need:
Ability to farm accounts. This is an essential skill for all farmers;
Ability to work with an anti-detect browser. To cultivate high-quality accounts, you need to use an anti-detect browser;
Perseverance. Farming accounts is a long and monotonous job that requires perseverance.
Most often, experience and cases are optional to obtain this role. On the contrary, many get their first experience in arbitrage as a farmer.
On average, farmers earn from $350. The position requires minimal knowledge of arbitration, a willingness to learn, and pharma skills. A ready-made pack of test profiles will be an advantage.
Designer
A designer is a team member who creates creatives. The designer is responsible for developing promotional materials for the media buyer.
The responsibilities of the designer include the development of creatives. To qualify for this position, you need:
Creativity. This requirement is in almost every job;
Ability to work with photo editors and video editors. To create creatives – you need to own editors;
Creation of landing page layouts. Designers make landing pages enjoyable for users;
Experience. Employers hire designers with at least a year of experience.
Designers earn from $500. Collect a portfolio of creatives and landing page layouts to apply for a job.
Markup developer
A markup developer is a person who typesets landing pages. His tasks include all issues related to programming and the technical part.
The duties of a markup developer include the following:
Creating and copying landings. This is the main task of typesetters;
Setting up tools. When entering a young team, the layout designer will need to set up a tracker, a cloaca, and other tools for arbitration;
Other technical questions. The markup developer deals with all issues related to technology and programming.
To get a markup developer position, you need the following:
Knowledge of programming languages. Most often, employers require knowledge of HTML, Javascript, CSS;
Understand technology. This is required for setting up servers and solving minor technical problems;
Experience. Most often, employers are looking for layout designers with experience.
The markup developer receives from $500. To get a job, collect a portfolio from ready-made landing pages.
Media buyer
A media buyer is an affiliate who buys ads. This position is the most responsible in the team; the media buyer does the main job of driving traffic.
The duties of a media buyer include the following:
Launch ads. The media buyer uses warmed-up accounts and launches ads from them;
Testing and analytics. To increase the volume of leads, a media buyer must constantly conduct tests and analyze advertising campaigns.
To obtain the position of a media buyer, you need the following:
Experience. Employers require at least a year of experience and successful cases;
Deep knowledge of affiliate marketing. Profitable promotion of an offer requires possession of a cloaca, understanding of the audience, and other subtleties;
Ability to manage the overall advertising budget. The media buyer must analyze the test results and change the creatives, the offer, or the entire bundle.
Media buyer earns from $1500. To apply for a vacancy, insert several cases into your portfolio and prepare data from the tracker.
Team Lead
Team Lead is the head of the affiliate team. He is responsible for the team's overall development, supervises other team members, and makes decisions about the connections.
Each team has its characteristics of working as a team leader, but some requirements are common to all.
The team leader's responsibilities include:
Media buying control. The team leader monitors all promotion stages, analyzes them, and changes links if necessary. He is responsible for the distribution of roles and hierarchy within the team. Also, the team leader controls the budget;
Communication. Team Lead negotiates with affiliate managers to gain access to closed offers;
Collection and analysis of information on the market. The team leader controls the entire media buying process and needs to check the market trends to increase conversions constantly.
Team Lead is the managing affiliate of the team. Vacancies for this position most often require the following:
Experience. Effective team management requires extensive knowledge in the field of arbitration. The minimum experience for a team leader starts from a year;
Availability of cases. You will only be hired as a team leader with successful claims. Employers require proof of your competence and professionalism;
Skills. Most often, employers require analytical and managerial skills from the team leader.
An alternative option to become a team leader is to assemble your affiliate team.
On average, the income of team leads starts from $2000! As a rule, the payment of a team lead is unlimited and depends on the team's success.
How to join the affiliate team
By vacancy
There are many vacancies on the Internet for teams that are looking for specialists! They can be searched:
On aggregators;
In telegram channels;
On affiliate platforms. Vacancies can be found in teams' channels or on affiliate sites.
To be accepted, follow these tips:
Prepare a portfolio. Depending on the role you want to play, it can be a creative that has landed or a good landing. Cases will also not be excessive;
Be honest. Fictional experiences and cases will help you get a place in the team, but in practice, deception will quickly be revealed;
Prepare for the interview. At the interview, it is worth telling in a structured way about your experience to increase the chances of getting into the team.
It is worth remembering that teams have a career ladder. Even if you were accepted as a farmer, later, you can grow to a team lead!
Create your own team
Creating your own team is more complex, but it has advantages! To create a team you will need the following:
Make big investments. Building a team will require large budgets;
Find people. For starters, a farmer and a media buyer are enough for you. These two roles are on every team and do the bulk of the work;
Set up work. Manage a team, promote offers, and increase income!
Building a team from scratch is hard, but it has its perks!
When you create a team, you become a team leader. The success of the team and its future is in your hands.
Finally
Team affiliation is an opportunity to get an excellent experience and make work more comfortable. Even if working in a team is different from your liking, teams always have experienced affiliates from whom you can learn many new things.
We hope the material will help you find your place in the team.
Good luck!