Everad Academy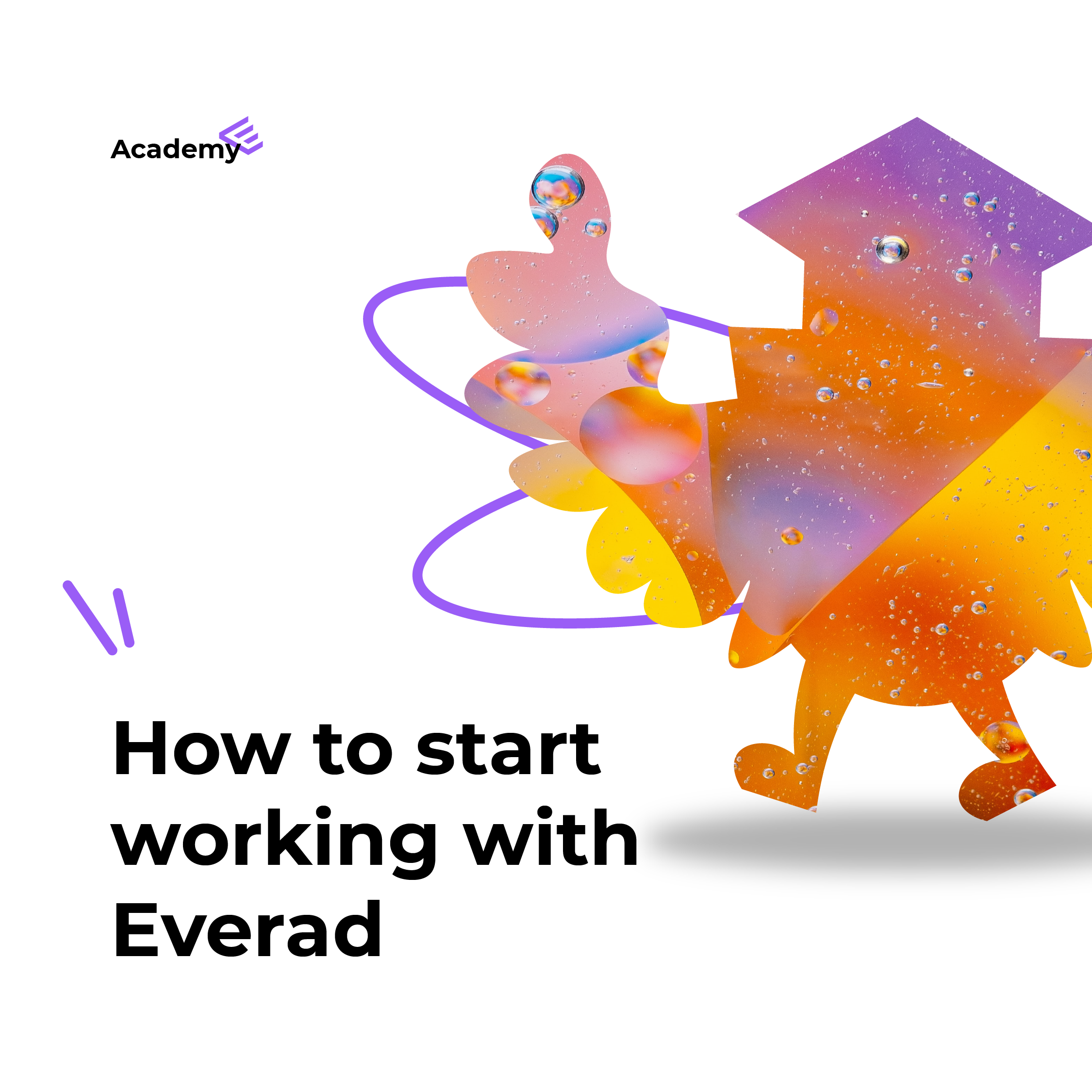 How to start working with Everad
Everad. Make more money with the help of nutra direct advertisers!
Ok, Google, how to profit from nutra? And we mean making money, not wasting your budget away. The answer is simple: by working with Everad.
What's good about Everad?
Everad is a vertically integrated company with its own R&D sections, offers, affiliate program, call center and logistics system. Not bad, eh? Thanks to its expertise in the nutra vertical and successful management of all processes involved, our company comes up with high-demand offers, converting promo materials and secures top-tier approval ratings. And of course, provides the highest first-hand payouts.
Everad's been on the market for over 10 years. We accept traffic for our own nutra offers with high payouts.
We currently have over 400 offers for 45+ GEOs in Europe, Asia, and Latin America. And it only gets better.
Verticals: Health & Beauty, Nutra, E-commerce.
Since Everad is a direct advertiser, the payouts reach 49$. The offers are set apart by high approval rates — Everad call centers have been selling in-house offers for over a decade now. That's why our scripts are honed to perfection, with native speakers servicing each region, which also increases approval rates.
Everad accounts contain lots of landings and pre-landings, with all of them translated and localized to fit the specific cultural features of each individual GEO.
Everad affiliate program review
Everad is a nutra direct advertiser. That means that with Everad, the affiliate will be getting the highest payouts since there are no intermediary parties involved. The logic is straightforward: no intermediaries mean more profits.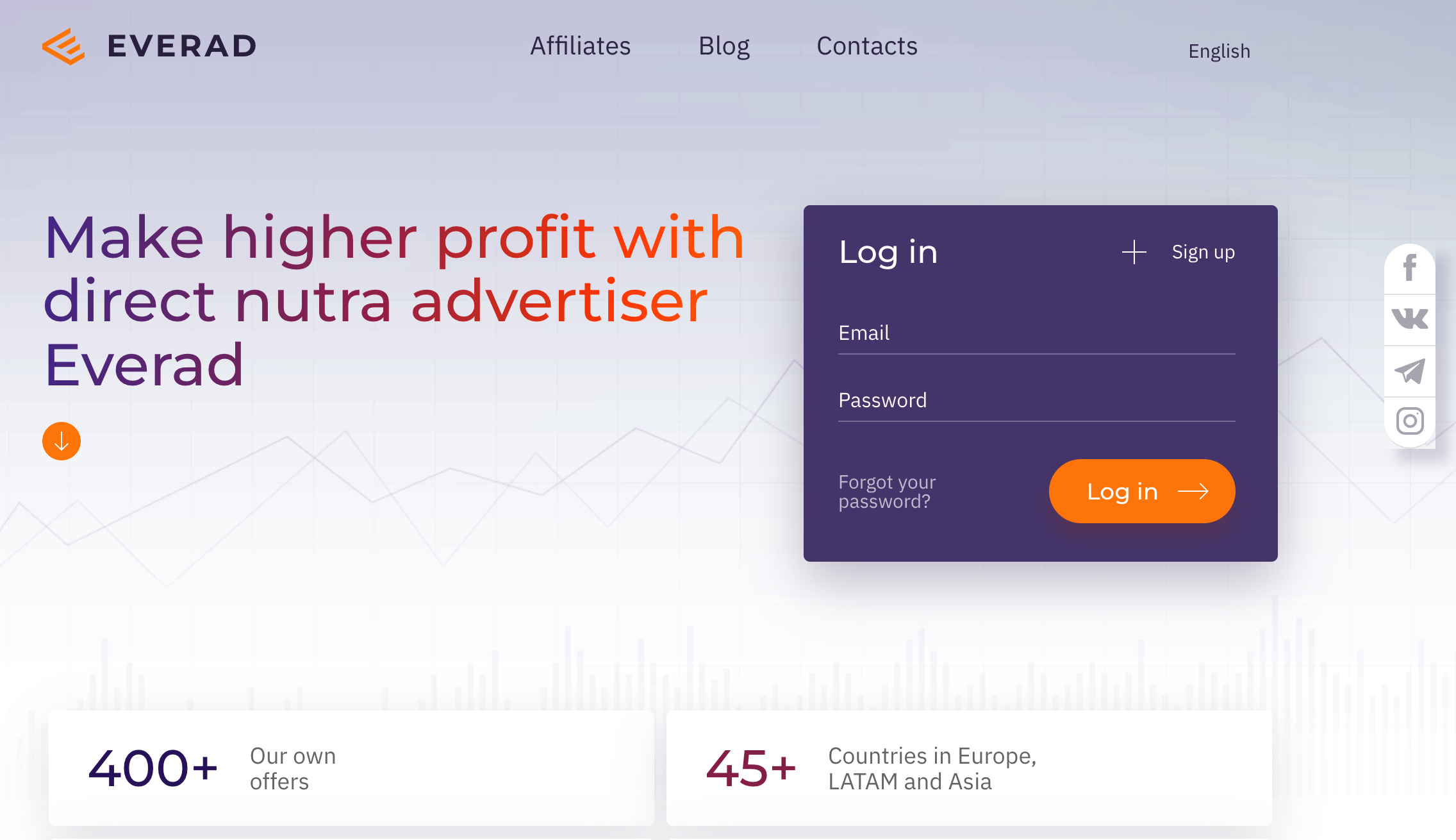 Everad works via the COD (cash-on-delivery) model, meaning the client pays for the product when they collect it at the post office. This payment model inspires the most trust among customers and lets the affiliate to launch campaigns with high conversion rates. Let's cover them in more detail.
Registering with Everad and getting started
Registering with Everad is a relatively simple and quick procedure. No need to click on thousands of buttons and go to random shady websites. Just fill out a few forms and verify your email.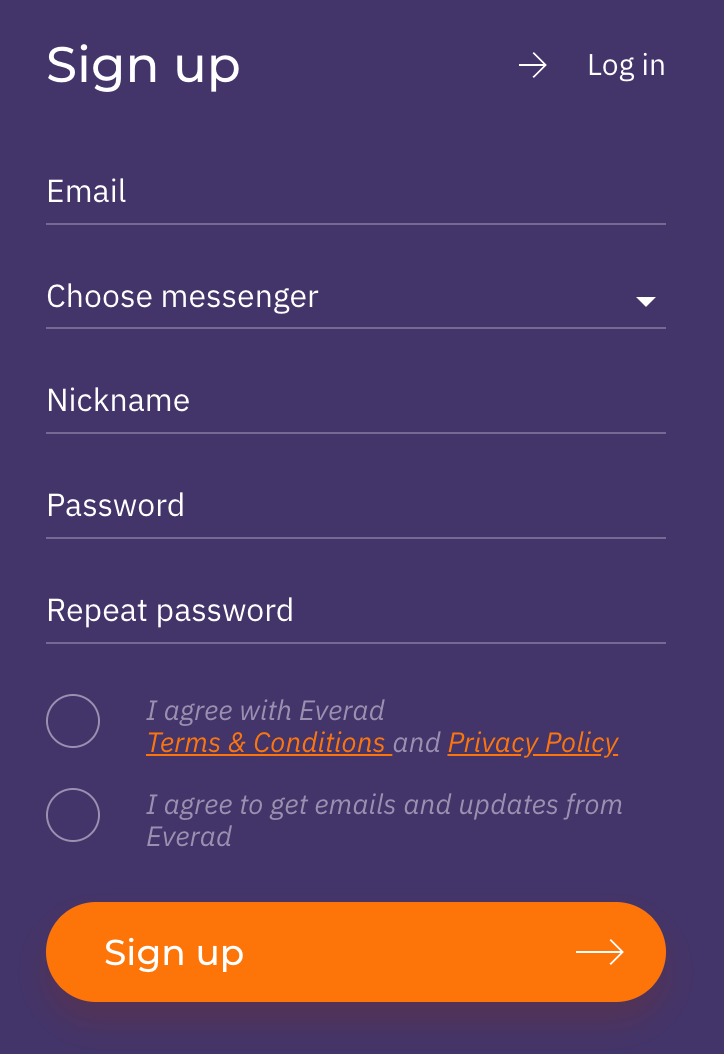 Once you're all done with the registration procedure, you need to fill out a small form and activate your account with the help of your manager.
As soon as you do, you'll get access to your personal profile and all its sections:
Stats
Bundles
Offers
Flows
Tools
Finances
News
Tech support
Thanks to its own tracking platform, Everad provides its partners with the ability to track the performance of their campaigns: you can track both general statistics and the performance of, for example, a specific landing page for a specific age category.
In the bundle section, users can find combinations of offers and landings that Everad provides partners with. Each one is verified and is likely to be in use as we speak. Want to learn more about the offers themselves? Go to the Offers section.
The tools section has multiple subsections that a nutra affiliate is bound to make use of:
Driving traffic to a news showcase. In the Tools section, all Everad partners are able to access the news showcase, customize it and drive traffic to it. A news showcase is a platform that mimics a news portal. It features ad teasers for offers of all sorts of themes and topics.
By visiting the website, a potential client can get acquainted with a large selection of offers, not just narrowly-focused ones.
It's not easy making such a website on your own. Luckily, Everad's already done everything for you, with its partners able to make use of convenient domain parking features and set up the showcase right from their profile.
Additional monetization. We've updated the additional monetization block, so if you want to squeeze the most profit out of your traffic, you just need to make sure the following checkboxes are always ticked:
turn landing page into a showcase once the user access it;
turn landing page into a showcase if the user clicks Back;
turn landing page into a showcase if the user attempts to leave.
Conversions and profile API. They'll help make tracking more accurate.
Partner bonuses. Everad has a lot of friends, with all of them handing out promo codes and free trials to affiliates. Go to the Bonuses and discounts section and get professional software as well as expendables and other materials with major discounts!
Master accounts. A feature for affiliate teams — connect multiple accounts and intertwine them into one to then use it to track the performance of each individual affiliate. You can also manage the size of their payouts and get bonuses if your team performs well. Access is granted only on request. A perfect option for team-leads.
Everad offers
Every offer description contains a landing, available pre-landings and descriptions that you can use in your campaigns. Each one has been localized, with their list being expanded constantly, ensuring there's always plenty of materials to choose from. There you can also get acquainted with the list of restrictions regarding both GEOs and traffic.
To start driving traffic to an offer, you need to request access and contact your manager.
Support and payouts:
Every affiliate gets a personal manager, ready to help and answer their questions 24/7 (main working hours: between 10:00 and 21:00 Kyiv time). Payout requests are also processed through managers or the ticket system. Your manager is your loyal buddy, always there to help you out.
In the finance section, you can find out how much money you made and select a convenient fund withdrawal method. The payouts are instant — just place a request and get your money. You can withdraw your earnings using the following channels: WebMoney, bank cards, bank transfers, Capitalist and ad network balances.
How to drive traffic to the Everad affiliate program
It all depends on which nutra subcategory you selected. Nutra offers perform well in teaser networks, Facebook, push networks and when promoted using email and contextual ads, as well as Google Ads. When selecting a traffic source, check out the list of recommended ones and also prohibited channels and tactics. Everad gives its partners near complete freedom of action as long as they steer clear of fraud and motivated traffic.
Detailed instructions for working with the Everad affiliate program can be found here.
Our contact info
Still got questions? Message us, we'll reply immediately!
E-mail: [email protected]
Skype: live:everad24
Telegram: @Everad_Support