Everad Academy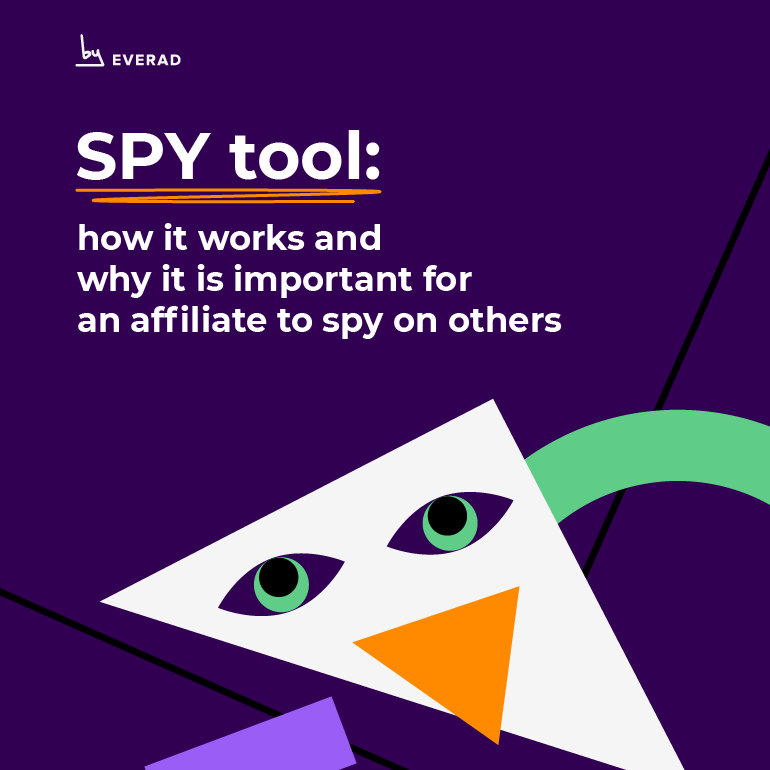 SPY tool: how it works and why it is important for an affiliate to spy on others
A spy tool is a monitoring tool that allows you to track the ads of other affiliates. In other words, these are espionage services with which you can spy or even copy other people's creatives.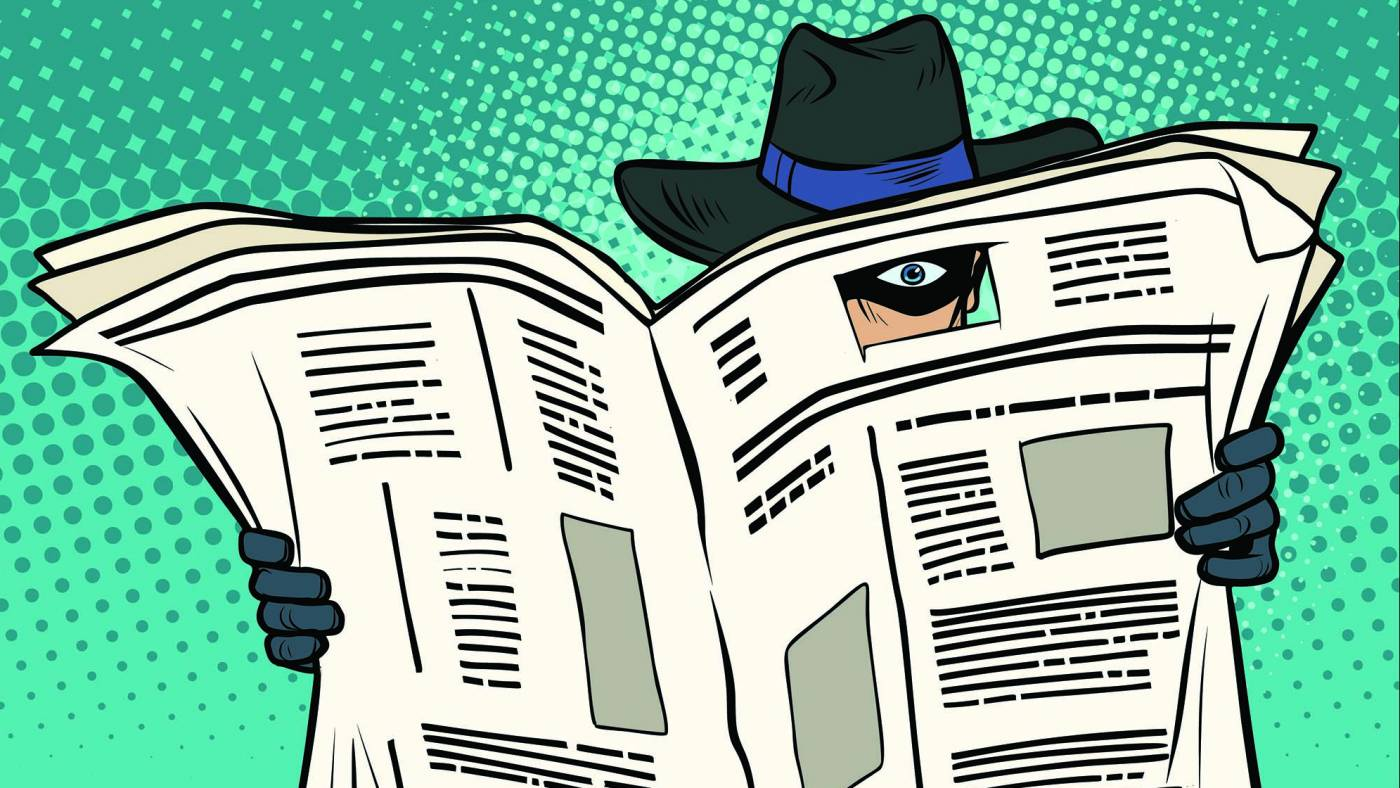 To show the benefits of SPY tools with an example, let's imagine the situation:
The affiliate is developing a new funnel, he has already selected an offer and decided on a traffic source. His next step is the development of creatives, but where to find ideas and how to identify profitable approaches with minimal risk?
The SPY tool will solve this problem, as the affiliate can see other colleagues' approaches. Using the service, you can find ads and their statistics, determine the most effective approaches and use them in personal links.
SPY tools in affiliate marketing: why are they needed, how do they work, what tasks do they solve?
SPY tools in affiliate marketing solve several key tasks:
Search for ideas and approaches. You can look at other people's ads, evaluate them in terms of performance and highlight profitable approaches. For example, a good metaphor or eye-catching text could be used in a creative;
Search and copy landings. With SPY tools, you can find, download and even edit landing pages that other affiliates have used for their ads. Often, the SPY tool has tools for landing page analytics;
Collection of analytical data. SPY tool will show statistics on views, clicks, campaign duration and many other parameters;
Copying creatives. You can copy other people's creatives, but we do not recommend doing this. Firstly, they may have already been banned by the advertising network, and secondly, the affiliate could already "squeeze out" the creatives, and the audience got used to them. It is better to use your own, unique ones.
If you plan to copy creatives, don't forget to clear the meta-data and make it unique with minor processing in any photo editor;
Search for current offers. SPY tools will help you track effective campaigns, which means you can learn more about different offers and discover great deals.
Otherwise, the SPY service is just a library with ads from various affiliates, which is constantly updated with fresh ads. You can search them by keywords and filter by geo, language, offer, landing page, and many other filters.
The filters themselves depend on the functionality of a particular service.
The key advantage of SPY tools is that they reduce the risk of losing the budget during tests. You can learn about the success of other specialists in advance, and based on their experience, make your own campaign – the chance to drain the budget on tests will be much lower.
It should be borne in mind that there are no universal services – they are all divided by traffic sources. For example, a SPY service for TikTok and a SPY tool for Facebook are often two different programs that you have to pay for separately.
Regarding payment, free SPY services also exist, but they are only suitable for superficial analysis. They have limited functionality, and do not show analytical data, and most of the creatives. Downloading and editing landing pages on free plans will also not work.
How to use SPY tools?
Now let's figure out how to use SPY tools.
For example, let's take AdHeart, one of the most popular Facebook ad-monitoring services.
All services work on the same principle and have similar filters and functionality, depending on the specifics of traffic sources. That is why we will consider only the service for Facebook.
We will also omit the registration process, as it is intuitive – you need to enter and confirm your email and come up with a password. You can also log in via Telegram or VK.
After registration, we ended up on the dashboard:

The subscription level is displayed in the upper right corner. You can click on it and purchase the full version without restrictions. The demo plan has a limit on the number of queries and results, and you can't download creatives.
Also, on the dashboard, you can go to any of the two main functions of the service – search by creatives or search by applications:

Let's move on to creatives, but in general, the mechanics of how these tools work is the same. The difference is that search by creative searches for ads in FB and IG by certain parameters, while search by application searches for applications and creatives for them.
So, we are looking for creatives:

You can search by keywords, countries, language, and more. When the filters are configured, click on the "Search for Creatives" button and the service will display the results: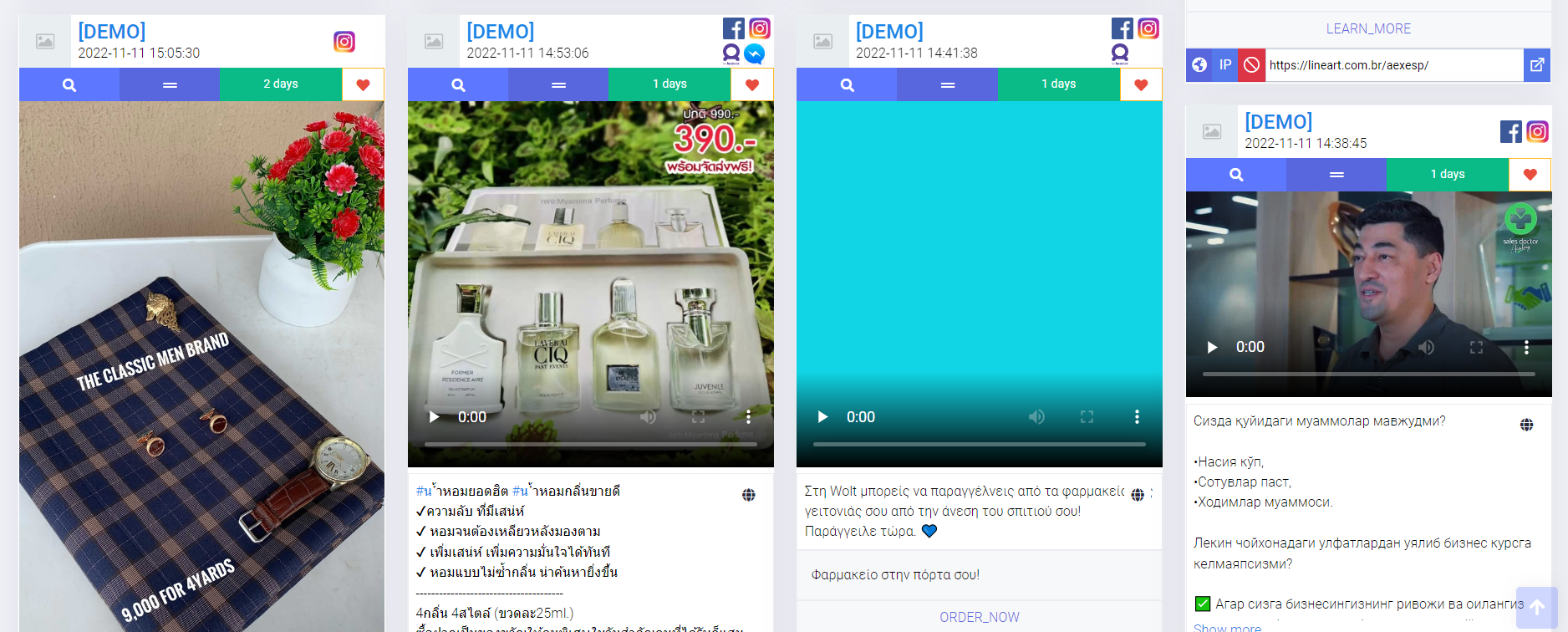 The results are given in the form of similar ad cards. On them, you can see social networks, campaign expiration dates, links to landing pages, and analytical information, which depends on the account tariff.
And that's all you need to know to work with the SPY service because you have already found competitors' ads!
Learn how to use filters and choose a service for your traffic source – the selection in the next section will help with this.
A selection of the best SPY tools
The selection includes 4 SPY tools, one for each popular traffic source. You will find SPY tools for FB and Insta, TikTok, for Google Ads, as well as a one-stop service for ad networks with specific traffic.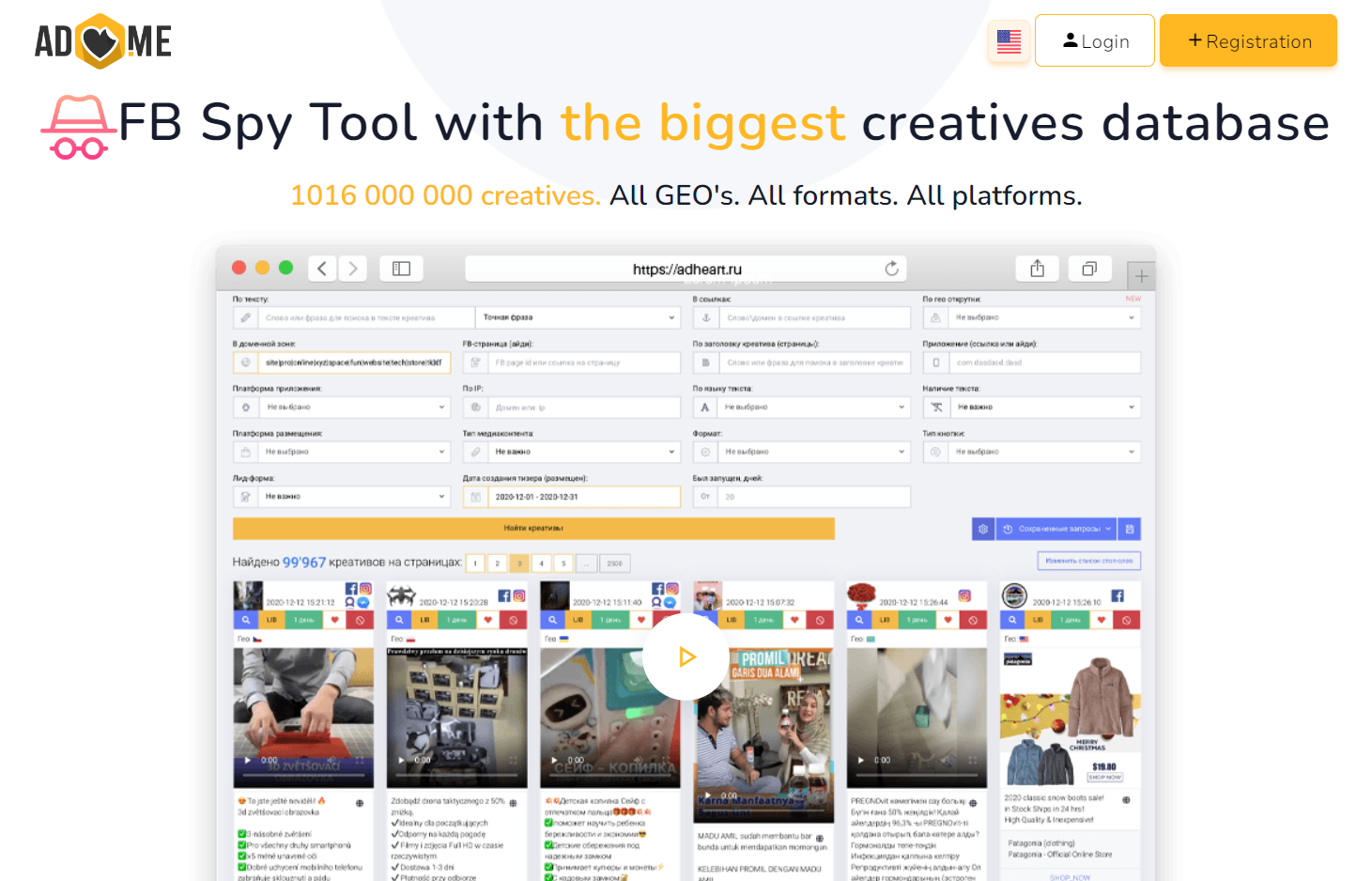 The same SPY service for FB and Inst from the previous paragraph.
Huge base. This is one of the largest ad libraries with over 900,000,000 creatives and it's constantly growing!
Relevance. The database is constantly updated – which means that you will have the latest information in your hands;
Filters. You can sort ads by keywords, 50+ languages, GEO and link, publishers, IP, content types, buttons, and many other parameters;
Downloading creatives. At the full rate, it is possible to download creatives;
Analytical data. The service collects data on the timing of the campaign, and similar creatives of the same publisher, and also has a link to the landing page;
Application search. There is advanced functionality for app promotion – you can search for popular apps and creatives for them.
Prices:
Monthly – $53 per month;
2 months – $96;
3 months – $134;
6 months – $250;
There is a free demo mode with limited functionality.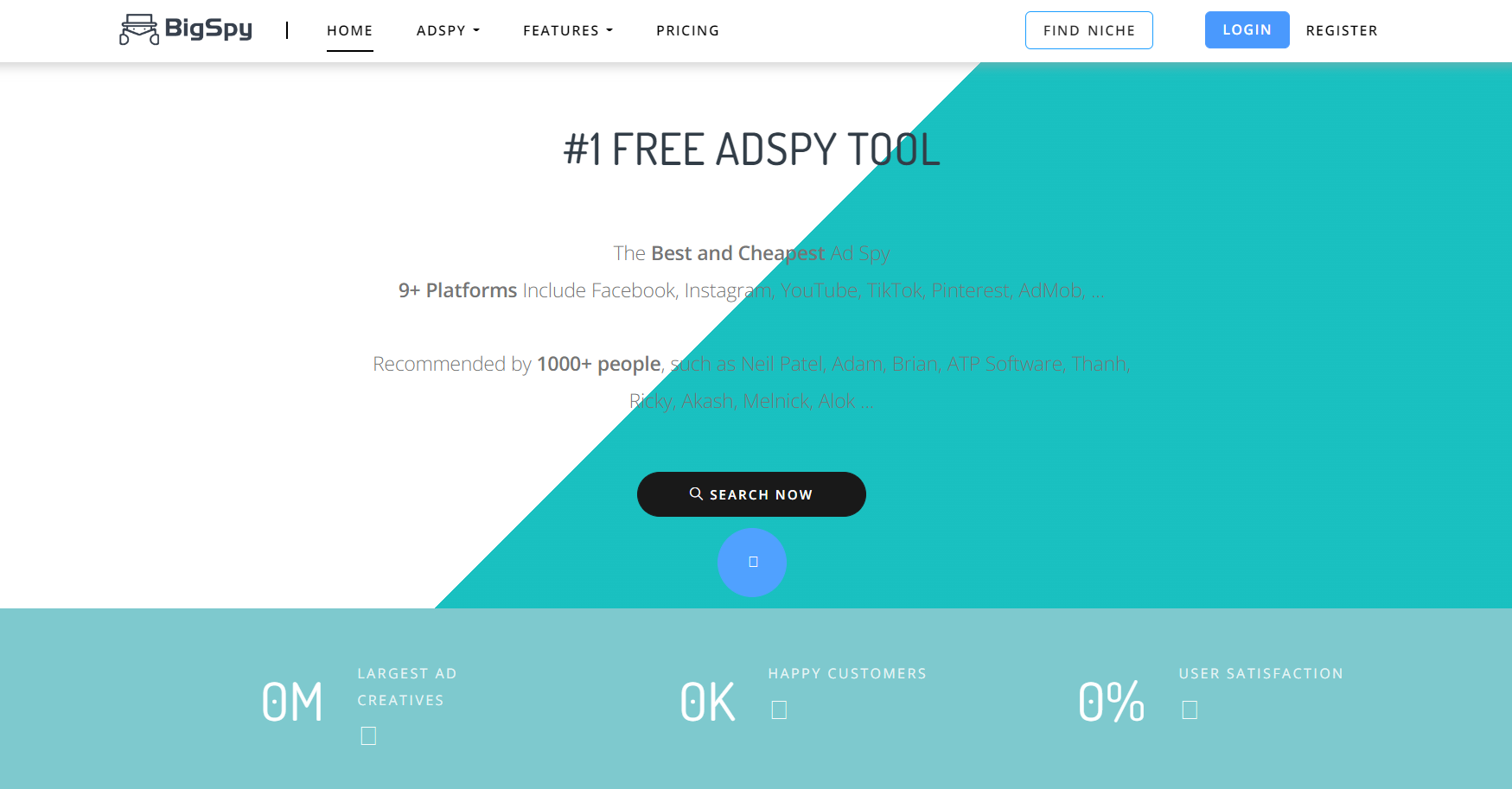 SPY tool for TikTok, FB, IG, Google, Twitter, YouTube.
Library. Over 600 million creatives, updated every day. Please note that the number of creatives for each network will be less than for narrowly focused services;
Filters. There is a wide range of filters – by keywords, regions, platforms, language, site types, creative types, etc.;
Sources. Supports several large traffic sources at once;
Data. Collects information about activity and views, as well as the timing of campaigns. There is also a section with detailed statistics for each creative;
Downloading creatives. With the help of the service, you can download creatives.
Prices:
Basic – $9 per month;
Professional PRO – $99;
VIP – $300+;
With your first purchase, you can get 3 PRO days for $1, 14 PRO days for a review, and 10 PRO days for inviting 3 friends.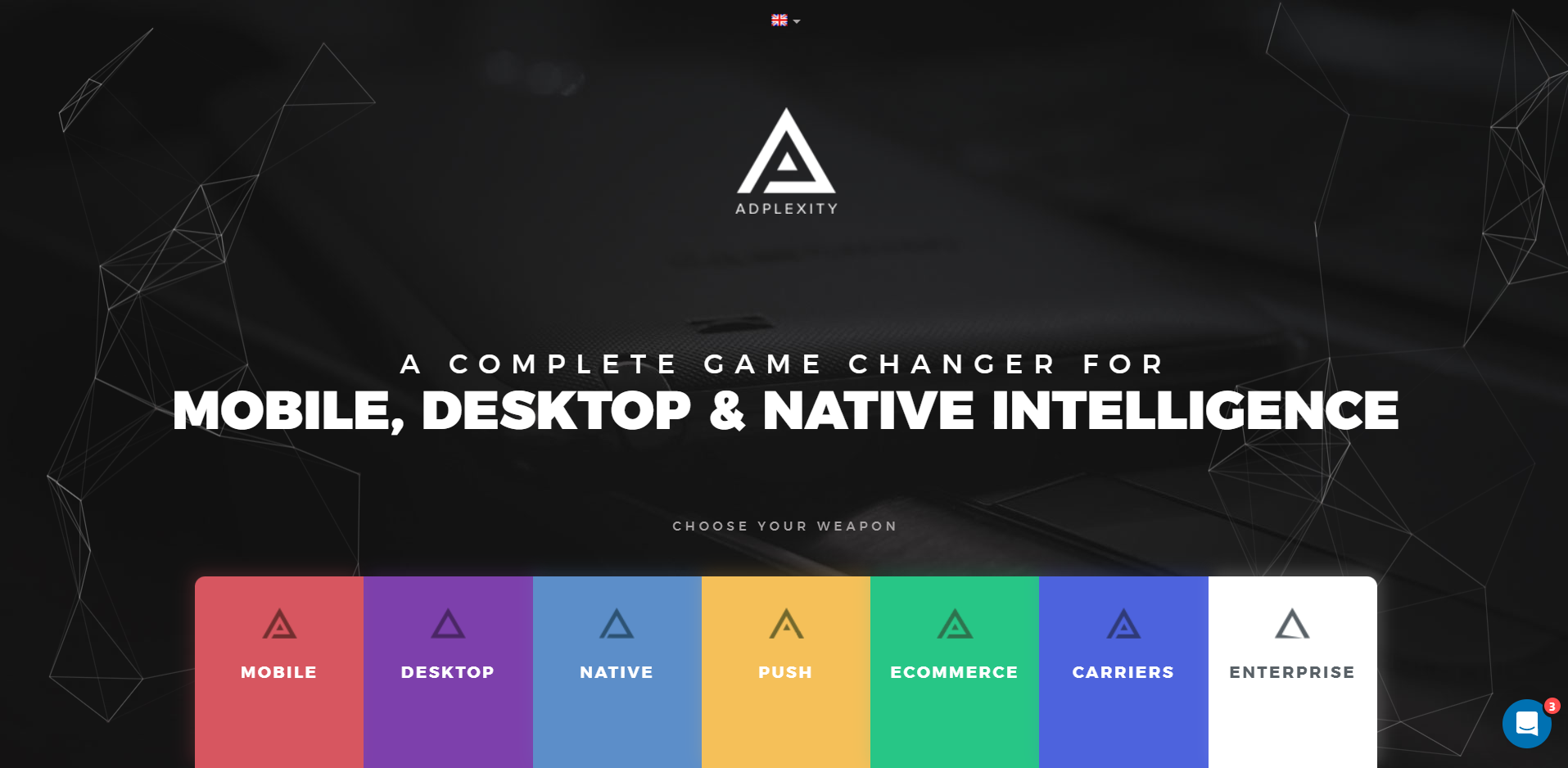 Universal SPY tool for advertising networks with specific traffic.
Supports mobile, desktop, mobile, push ads, as well as a monitoring service for e-commerce and advanced business tools.
Base. Tracks ads in hundreds of advertising networks and dozens of countries, the database is constantly growing and updating;
Sources. Each source has its own Adplexity, for which you will have to pay separately;
Filters. Filters by keywords, advertisers, publishers, affiliate networks, and more;
Analytics. Tracks campaign timing, target devices, traffic sources, publishers, and more;
Downloading landings. Using the tool, you can download landing pages with all the necessary files.
Prices:
From $150 for each traffic source when buying a month;
From $1500 for each traffic source when paid annually;
There is no trial period, but you can return the funds within a day.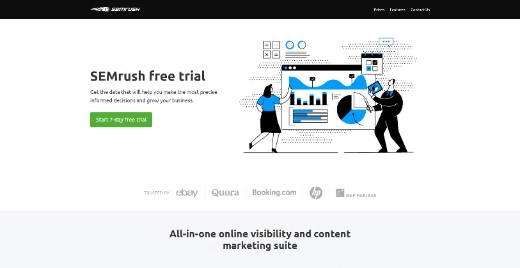 Service for monitoring ads in Google Ads.
Base. Over 810 million domains, 20 billion keywords, over 35 trillion backlinks. The database is constantly growing and replenished;
GEO. Supports more than 140 countries, but the main vector is taken to the English-speaking countries;
Filters. Filters by GEO, keywords, popularity, verticals;
Reverse lookup. You can choose a vertical and track the most popular creatives;
Analytics. There are detailed analytics, including landing pages.
Prices:
PRO – $99 per month;
Guru – $199;
Business – $399;
There is a trial version for 7 days after linking the card.
Let's summarize:
SPY tools are tools for monitoring competitor ads;
In affiliate marketing, they are used to search for ideas, analytics and copy other people's approaches;
As a rule, they are divided by traffic sources. One service rarely covers more than 2-3 sources;
There are free and paid ones. Paid ones have wider functionality, as well as more up-to-date and complete information;
They work simply and on the same principle – just set up filters, and the service will show ads from other specialists.