News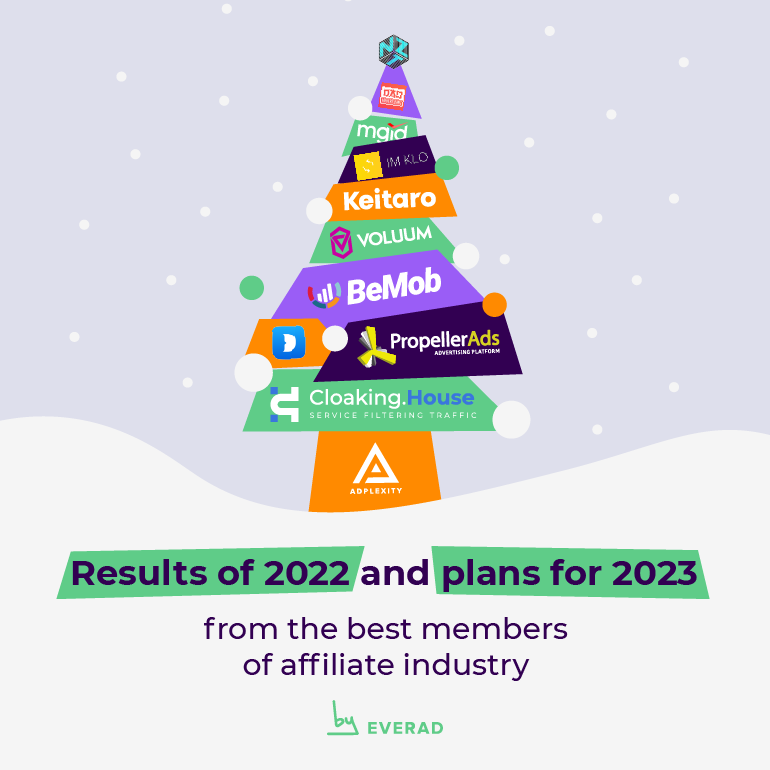 Results of 2022 and plans for 2023 from the best members of affiliate industry
2022 has definitely been a difficult year. This year has defined new values and built radically new routes in the industry. Made us stronger and pointed to fundamentally new opportunities.
And what would that year be like? We have discussed this topic with our partners and representatives of services, and also summed up the outgoing year. The guys have big plans, which means that we are moving forward without slowing the momentum!

The main lesson of 2022 is to be prepared for everything, first of all, for a market crash. Despite the overall negative background of the year, we significantly expanded our market share, doubling our net profit, as well as expanded our API, implemented guest access to statistics and many small features.
We have big plans! At the beginning of 2023, the release of the long-awaited team mode: team management, role-based access control, individual accounts for each buyer. Major upgrade of statistics and tracker. And icing on the cake: release of a self-hosted solution and TDS for installation on your server, which is now available in a truncated form in the Binom tracker.

Summary of 2022: When there is no worthy competition in the market, it fades in anticipation of breakthrough solutions
We expect a fantastic return of the market maker in 2023

Most of 2022 has been under the "Safety First" motto for us. We have invested a lot of time, effort and money to protect our products from hacks and hacker attacks. Now we can say with confidence that our antique is as reliable as a Swiss bank.
In 2023, we will also work on the security and reliability of services. And, of course, we will definitely please you with fiery new options. An updated version of our auto-loading is about to be released, completely written from scratch, more stable and reliable. Also, auto-loading will not need to be installed on the server.

2022 showed us how important it is to be able to quickly respond to changes. We were able to ensure the stable operation of the service and tried to make our tracker even more accessible by optimizing the pricing policy. Any functionality can now be purchased without switching to a more expensive tariff. This has given us good results and positive customer feedback.
In 2023, we plan to focus entirely on the automatic optimization of advertising campaigns to help our clients get rid of the routine and simplify the analytics process.

2022 has been a challenging year for us, but it has been a year of resilience. The war in Ukraine, inflation, supply chain issues and general uncertainty have affected MGID and the entire digital advertising space. However, despite the challenges, we managed to recover and grow further. We have expanded our presence in Asia and Europe, launched new advertising formats, received awards for our own contextual targeting technology, and that's not all.
In 2023, we will continue to improve our platform both in terms of UX and performance. And we will conquer new geos.

The year 2022 did not rather teach, but confirmed the thesis. Online relationships with partners are cool, but it can never replace full-fledged offline networking with people at conferences, meetups and parties. It was very noticeable how much even existing partnerships have been strengthened after the offline meeting and simple human communication. Among the achievements, we can note a significant improvement in the detection of campaigns in the US and Canada geos, and a huge amount of work has been done to create a TikTok Ads spay service.
In 2023, we will continue to work on the TikTok service. This niche is very progressive, and we hope that with the advent of AdPlexity to this market, we will be able to make life easier for many affiliates. Well, of course, we will not lower the bar in all our other services.

2022 has taught us not to stand still. Opportunities always expand if you are focused on results. We have grown to an ad base of 11 million and 900 thousand landings and transits. We wrote a tutorial on how to work with SpyOver with a detailed description of all the features.
From 2023 we expect stability in filling the service with new funnels.

2022 has taught us how to work in international markets due to the current circumstances.
Plans for 2023: international expansion.
Special promo code NEWYEAREVERAD until 01/10/2023 20% discount on the next purchase of any tariff in iProxy.online

2022 has been a good year for us. We won several cool awards: we became the best traffic source for gambling according to SiGMA and one of the top networks according to the American portal OfferVault. We have also significantly strengthened our expertise in traffic, increased volumes and released several cool feature assistants for affiliates. We are talking about the Performance mode feature, which itself analyzes the results on the platform and adds sourcing traffic to the blacklist. Tests by our clients show that CPA can be reduced by up to 79% and conversions can be increased by up to 253%.
In 2023, we are preparing new features and even better traffic for affiliates. We look forward to updating the Safari browser in 2023, which will allow you to send push notifications to iOS users. Our clients will receive a new stream of potential clients who have not seen push notifications before. This will be the second birth for push traffic.

2022 showed that it is still better to keep money in crypto, and it is better to focus on gambling in creatives. They also began to make not only creatives, but also sites with applications.
In 2023, we plan to continue to be leaders in the creative market. Thank you guys for your trust! KMP congratulate everyone on the upcoming year 2023!

2022 has been a tough year from the start. The affiliate community was shaken, our network was also affected. But we have become more united, this year has taught us to appreciate everything that we have, to appreciate loved ones and to appreciate our partners. We try to develop our project with all our might, there are no other options.
We expect only good things from 2023. Updates and new projects.

2022 has shown the need to continue focusing on process automation and User eXperience. Functionality that saves time in routine processes and is user-friendly will continue to gain popularity due to the number of daily tasks. It is worth listening to the market in these requests because they are decisive.
We want to introduce more and more ad tech solutions in 2023 and keep up with the market. Solve user problems by adapting to the challenges of the digital market.

In 2022, we have grown very strongly, both in the number of people and in volume. In September 2021, we reassembled the team and there were only 4 of us. Since that moment, we have grown 10 times in the number of employees, now we are about 40. These are the buyers and the farming department, those departments, people who are engaged in creative work, etc. With the new team, we started from a remote location, and then we opened an office of 100 sq. m., and after half a year we opened an office of 350 sq. We put the pharma department on its feet and completely abandoned third-party account solutions. Significantly improved automation.
I realized that until you start treating affiliate marketing like a business, there will be no growth. Everything should be clear, everyone should have tasks, goals, discipline and of course teamwork. My team is my family, I devote all my free and non-free time to it, and many guys pay the same in return. We all have a family vibe, which helps a lot to understand each other.
In 2023, we are aimed at further growth of the team, but we will be more careful about the selection of buyers and their training. There are plans to build a production department that will develop transit pages, landings, etc. And we definitely plan to strengthen the already existing buyers in order to make a multiple of the volume at the same energy and time costs. We will improve the corporate culture and become something more than just a team, although we are now much more than just a team.

2022 started on a big take-off, but actually stopped at the start. The Ukrainian advertising market turned out to be completely unprepared for the attack and the beginning of the war. When on the 25th all advertising campaigns stopped and no one knew what to do. However, by consolidating the strength of our team, we were able to survive, resume sales in our native network, continue developing our own DSP platform product and release it. The year has taught us not to plunge into a routine, to implement the most important tasks and projects and to do what you already plan to do.
In 2023, we plan to expand our own advertising inventory; connection of new SSP/DSP partners; release of our DSP platform for affiliates, as well as the launch of a worldwide geo, primarily countries of the category tier 1, tier 2.

In 2022, human value has come to the fore! We focused on internal changes:
We rethought our product and service delivery. Good customer service has become a priority.
We decided that we want to be the #1 employer for our employees and we know that our team is the best in the world!
There are many plans and ideas. The main goal for 2023 is to surprise everyone! We do not want to be in the role of "just a store with good accounts." The soul of NZT requires more global change and empowerment for our customers.

In 2022, we have seriously strengthened and learned a lot. We expanded the team, fully adapted our product in 6 languages. We attended major conferences and met many partners and users live. We formed and expanded our ecosystem, released many articles that talked about our browser and the industries in which it is used. We have greatly tightened the automation and optimized the usability of our browser.
In 2023, we will continue our growth, improve the product and expand the ecosystem we have formed. Our developers will continue to release updates, expand functionality and improve the existing one. The international AdsPower team will continue to help you realize all your ideas. Benefit, safety, convenience are our key principles, and we will continue to adhere to them.

In 2022 we learnt many things with two key (but rather obvious findings):
media buyers prefer to have one tool for the whole team and operations. Tracking, attributions, postbacks, partners / publishers, automation.  It helps have consistent KPI and save time trying to synchronise data
media buyers hate to pay %% of ad spend for basic automaton features like API cost updates, rules etc. And "free" $1,000K a month is a joke
RedTrack.io has launched media buying automation extension in November 2022 covering key automation scenarios for Facebook, TikTok and 20 other ad networks.  You can expect us to add more automation scenarios across more ad networks. And you can expect that we feel provide it as part of subscription plan with a fixed cost, because we believe that charging %% of the ad spend is evil.

2022 has taught us to be strong, united and flexible. The Partnerkin family continues to grow, overcoming all difficulties. The main achievement of this year is reaching the international level and launching 12 language versions.
In 2023, we will continue to create useful content, organize international events and develop together with the community!

2022 was a challenging year, also for the digital marketing industry. But as it's coming to an end we're feeling optimistic. That's because we used these turbulent times to pinpoint the strengths of our tracker and improve it even more. We've learned that what our clients expect is a tracker that first and foremost works – no matter the changes that shape and shake the industry (such as blocking of 3rd party cookies or reducing UA string). Anticipating and addressing these challenges years in advance is a proof of our commitment. Besides that, knowing how important integrations and automation are, we've introduced many new connections in our Automizer tool and worked to improve the existing ones.
For 2023, we plan to introduce some changes to the Voluum interface. Currently, we do a lot of work under the surface, migrating various parts of Voluum into new technologies. Soon, everyone will be able to see Voluum's new look. We also plan to increase our presence at all major industry's conferences. This is our time to connect with the customers and look for new partners. We want to go beyond the boundaries of our own business and build competitive edge based on fruitful partnerships.

First of all, 2022 taught us to be ready for any difficulties, to stay afloat no matter what. Be united, stand up for your values and fight for them. Achievements include an increase in the affiliate network, an increase in the number and stability in the quality of traffic.
In the new year there will be many pleasant surprises from DAO, even more advertising integrations and subprojects! Strengthening integration by video format, which is the future of digital marketing.

The outgoing year has once again reminded us of how important it is to appreciate and respect each other. After all, any company consists primarily not of numbers, but of the people who work in it. We have worked hard in 2022 to give our customers the best tracker on the market. And at the beginning of 2023, we are preparing to present something. So far no spoilers.

2022 has taught that you need to be ready for the arrival of the black swan, which can change all plans by 180 degrees, as was the case with the ZorbasMedia offline conference. Our team adapted to the current conditions and already in September we held the sixth ZMCONF6 conference, where we had record-breaking views of unique viewers in the amount of 1000+ people at a time, and in December ended the year with the final ZMCONF7, which received a lot of positive feedback from viewers.
In 2023, we will reach a foreign audience and begin to actively develop in this direction. We are returning to reporting from events in an exclusive format, which we will try to release monthly and more often.

2022 was challenging – we bet everyone agree. Inspite all the unexpectedness we all faced we kept on working for our clients. One of the highlights was PropellerAds rebranding and website update, with more features announced coming live soon. We also worked hard to increase the reach of our advertisers onboarding more websites maintaining and improving the quality and performance. Moreover as expected WorldCup was a huge highlight with whole world buzzing about it which also reflected both in the traffic volume and performance and demand from our partners.
The next year we will focus and continue working on traffic filtering technologies. We've announced to onboard even more traffic suppliers to ensure high performance of our clients campaigns no matter which traffic source or ad format they prefer. New traffic types and bidding models, that were announced will become available soon and will expand PropellerAds customers' media buying opportunities and help them boost lead generation to reach their business goals easier.

2022 has definitely not been an easy year for most companies. But we definitely benefited from it: in any situation, there is only one right decision to keep working and do it even better. We have expanded the capabilities of our service, added more than 10 new networks and foreign accounts in existing advertising networks: Google, TikTok. All 70,000 of our clients continued to work at their usual level and get even more profit. In 2022, we paid out more than 100 million bonuses to our customers!
In 2023, we are not going to stop (in fact, like all 5 years before), we will add new most useful features to the service that will improve the quality of work of our clients, curb the most popular foreign advertising networks and redesign the site.

2022 has taught us even faster adaptation. We invested in hiring excellent specialists – and did not lose. CPA media buying has now been added to the self-serve platform for our Social Bar advertising format. New dynamic templates were added, which imitate messages in trending social networks and instant messengers. And now, we are seeing how competitors repeat this strategy since full customization gives high CTRs and post-click performance. We also connected new traffic sources and enhanced the gambling vertical.
More and more quality traffic from all over the world in 2023! As part of our Partner Care program, we have planned releases that will make the platform even more convenient and the service better. For advertisers: a reduction in campaign moderation time, GEO limits, auto-replenishment of the balance, an API upgrade for advertisers. For publishers: reduction of minimum payouts, withdrawal to local banks and multiformat ads. Some ideas are kept secret, so follow us on social media to stay updated.