News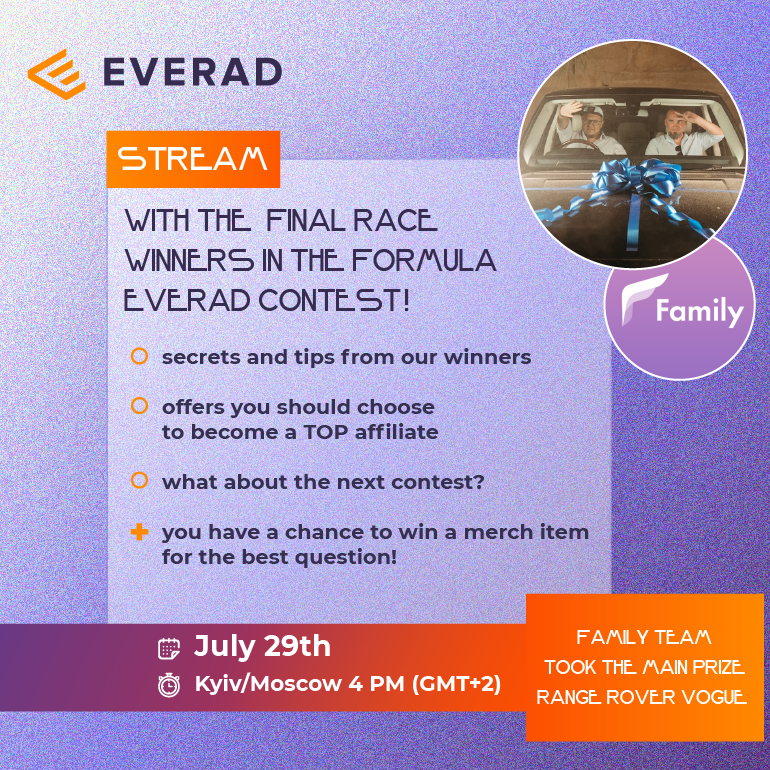 Stream with the Range Rover Vogue winners!
🔥Is it possible to drive traffic to maximum and win Range Rover Vogue in the final race of the Formula Everad contest? For sure! Was it a fortune or an extremely well-deserved award? We`ll find out from the success story!
This Thursday, July 29th, the Family team – Range Rover Vogue owners will share their experience! They will also tell how to become the winner and get the most luxurious car of the contest.
Program:
✅secrets and tips from our winners
✅offers you should choose to become a TOP affiliate
✅what about the next contest?
+ you have a chance to win a merch item for the best question!
Let`s meet! July 29th, Kyiv/Moscow 4 PM, Youtube Everad
Listen to success story and take an example from top affiliates! Become a TOP affiliate!😎
Don't miss the chance to become part of a friendly affiliate family! Welcome to the EveradChat: https://t.me/everadchat