News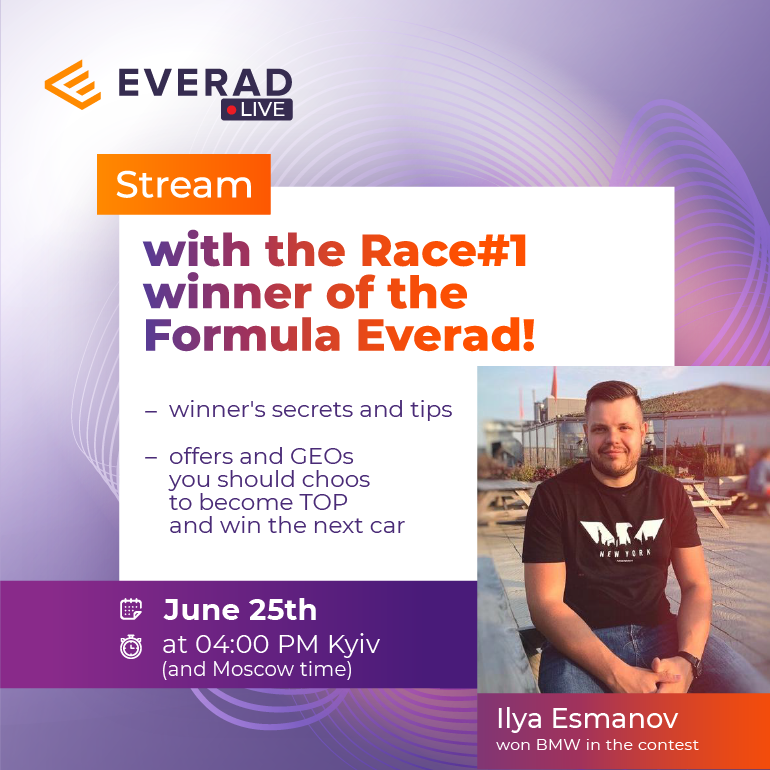 Stream with the Race#1 winner of the Formula Everad
Cancel all your plans for tomorrow: we invite you to a new stream at 4:00 PM Kyiv and Moscow time!
🗣Our guest – Ilya Esmanov – will share his feelings and emotions аfter BMW winning at the Race#1 of the 🏁Formula Everad contest! He will tell us a couple of his secrets, tricks and professional life hacks.
We will also discuss:
💥 actual and new Everad offers
💥 profitable GEOs
💥 what to look for to become a TOP and win the gorgeous 🚘Audi A6 this fall
🎁 Win 300 Evers for the best question to start successfully Race#2 of the contest!
Stream link: youtu.be/PNEUfb009J8
🚀Join on June 25 at 4:00 PM Kyiv and Moscow time. Don't be late, we won't start without you!
Don't miss the chance to become part of a friendly affiliate family! Welcome to the EveradChat: https://t.me/everadchat