Everad Academy
How to start running traffic for the first time: step-by-step instruction for affiliates
Often beginner affiliates devote too much time to theory. This is a mistake, because when it comes to practice, the specialist does not know where to start.
We have prepared a detailed step-by-step funnel development guide that is suitable for any offer and traffic source. Follow the points – after reading the material, you will forget about the stupor and will be able to independently prepare a strategy.
Step One: Traffic Source and Budgets
The development of funnel should begin with the choice of a traffic source.
This choice is fundamental, since it depends on:
Offers that you will select for funnel;
Budgets, since prices for traffic in different sources are different;
Consumables, because each advertising network has its own specifics;
Tools, because different traffic sources require different services and programs;
Creatives and landings, since the requirements for promotional materials and moderation in each network are different;
Your skill level, because some traffic sources require more advanced knowledge.
The complexity of this choice is that it entirely depends on the affiliate, there are no universal solutions.
Here is what we recommend to what to consider when choosing a traffic source:
Skills and experience. If you are already familiar with any traffic sources, it is better to give preference to them, this will increase the chances of success. We recommend that you do not spread your attention to several sources at once, but instead deepen your skills in working with one platform;
Opportunities and technologies. Check out what options the source offers. Pay attention to how he selects an audience, how effective his algorithms are, and how he performs in campaigns of other affiliates ;
Relevance. Make sure that the traffic source can still bring in an audience and that it is available for work. Rigid rules or audience churn can negatively impact your strategies;
Volumes and GEO. Estimate the amount of traffic and geo supported by the source. You can view local reports to learn more about audience data;
Specificity. Study the experience of other specialists – it will help you understand the specifics of the source and highlight non-obvious points that may interfere with campaigns. For example, Facebook has many specific features, and if they are not taken into account, you will be blocked.
Budgets. In some sources, traffic is more expensive than in others. The most expensive are social networks and search engines, the average prices can be found in native networks and sites with specific traffic, and the cheapest advertising can be found in shareware sources or, for example, in the case of spam;
Perspectives. It is better to evaluate the future of the source if you plan to use it in the long term. Take a look at the dynamics of the audience, company news and the opinion of other specialists about the future of the chosen source.
For the rest, just choose the traffic source that best suits your needs.
Just in case, we recall what they generally are:
Social networks – TikTok, FB, IG;
Search engines such as Google;
Ad networks with specific traffic, such as native or push networks;
Other sources such as spam or SEO.
Also at this stage, you need to decide if you have enough budget to start. Consider the cost of consumables, traffic, tools, tests, and other parts of funnel.
Step two: Choose an offer and GEO
When you select a traffic source for your future funnel, it's time to decide on offers and GEO.
Before an affiliate starts selecting an offer, it chooses an affiliate network.
Here is what we recommend to pay attention to when choosing an affiliate network:
Offers. Pay attention to the number of offers. An affiliate has more choices when there are more of them. It is worth giving preference to networks with their own offers, such as Everad. The competition for them is lower, and the flexibility, profitability and convenience of work are many times higher;
GEO. The more GEOs supported by the partner network, the better. If you already know which GEO you will upload to, make sure that the network supports it;
Trust and authority. Read reviews and opinions about the site on affiliate resources and consult with colleagues in chats. Good affiliate networks care about reputation and do not allow negativity;
Technical support. Technical support is extremely important in the work, and therefore it is better to check it in advance. Ask the manager a couple of simple questions and evaluate his answers – expertise and speed will show that technical support really works;
Payouts. Make sure that you are satisfied with the average payouts for offers, payout models and calculation methods. Also, it is worth checking the hold and other conditions related to money in advance, for example, the frequency of payments;
Requirements. Some affiliate networks are private, they do not allow newcomers, as they are afraid of reputational risks. Just check that you meet the requirements for the selected network;
Comfort. Convenient design, registration in a couple of clicks, comfortable menus and instant statistics updates are signs that you will be pleased to cooperate with the network;
Chips. Check if the selected network has other benefits, such as access to tools or traffic discounts.
We recommend joining Everad, because we meet all the criteria! We have deep experience in affiliate marketing, more than 400 own offers in 45+ GEOs, and more than 200 thousand satisfied partners. Join us, we won't disappoint you.
Next, you need to decide on the vertical.
Take emphasis on nutra. This is an opportunity to work with relevant offers all year round, have a huge selection of offers for all ages and segments, as well as benefit from the vast experience of the community.
Nutra is one of the oldest verticals, with an incredible amount of case studies and tutorials. They will help you avoid problems and comfortably master the direction.
The next step is choosing a GEO. It is better to choose a GEO before the offer, so you can save time.
Key aspects to consider when choosing a region:
Tiers and prices. All countries are divided into conditional regions, based on the price of traffic. Be sure to evaluate how much it will cost to promote in the selected region and whether you are able to comfortably launch campaigns.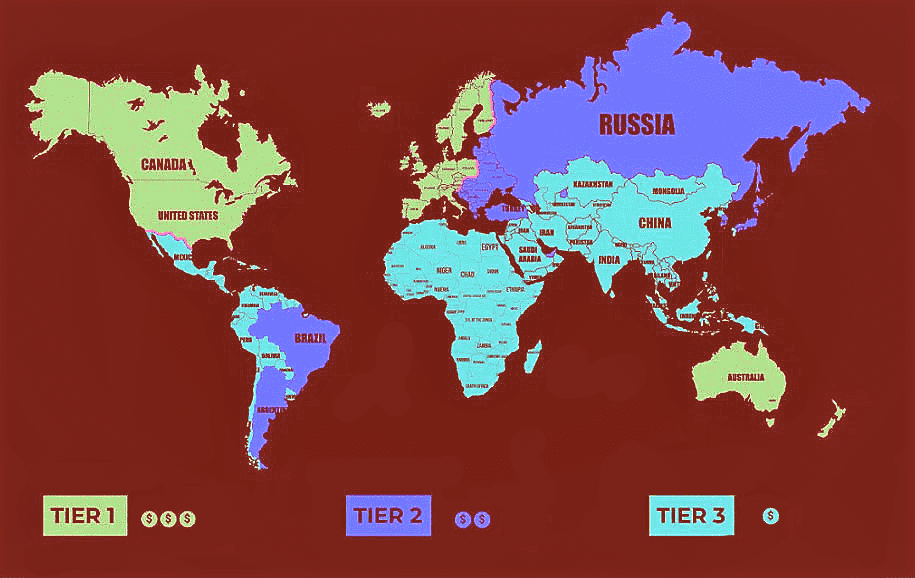 Sometimes it's more profitable to choose a cheaper GEO than trying to succeed with the wrong budget;
Situation. The internal situation in the country can greatly affect the campaigns. Make sure that everything is stable in the selected GEO before launching, otherwise your strategy may suffer due to wars, crises and other local problems;
Availability of the traffic source. Just make sure that the traffic source you choose is suitable for the country and has enough audience for comfortable promotion;
Reviews. Check with other affiliates or a manager. They will tell you how relevant it is to work with one or another GEO.
Select GEO. We recommend paying attention to Latin America and Asia. These regions are gaining relevance and showing excellent conversions when working with the nutra-vertical in recent years.
Now it remains to choose an offer!
What you should pay attention to:
Freshness. The audience is not yet familiar with new offers, which means low competition and no banner blindness. Use it, test fresh offers;
Statistics. Evaluate offer statistics, learn more about its effectiveness. Average rates of approval, trash and other indicators will help to highlight the most effective proposals;
Requirements. Check the requirements, whether you can definitely promote through the selected source, whether there are any advertiser restrictions and other nuances that you should know about right away;
Conditions. Estimate the amount of payouts, correlate it with the approval indicators and compare with payouts for related offers in the selected GEO. Often, both too high and too low a payout can hint at the specifics of an offer.
For the rest, the main thing is that the payment should correspond to the prices for traffic;
Manager's opinion. Managers know which offers work and which don't. Contact your manager for advice. If support works correctly, then he will definitely tell you the current offers.
The next stage of funnel development is the preparation of promotional materials and consumables!
Step three: Promotional materials, consumables, tools
Before you start preparing promotional materials, you should stock up on consumables and tools.
The specific list depends on the traffic source and offer, but as a rule, affiliates use the following consumables and tools:
Accounts. Relevant for social networks, because due to blocking, affiliates constantly have to look for new accounts;
Proxy. Necessary for the correct operation of anonymization tools;
Domains. Useful for publishing landing pages;
Antidetect browsers. Needed for multi-accounting, more often used in social networks and search engines;
SPY services. An indispensable affiliate tool that will help you find ideas for creatives;
Trackers. Tracker is a universal service for an affiliate that helps to collect data, distribute traffic and solve dozens of other tasks;
Graphic editor. Needed for creative development, less often for landing page design. You can always use free ones like Supa or Pixlr.
Determine the necessary list of consumables and tools depending on your traffic source. Keep in mind that some of them can be saved, for example, if you do not need to prepare a large pack of creatives, you can use a free photo editor.
Let's move on to landings. As a rule, affiliate networks already provide ready-made options that can be found in the offer card. In Everad they can be found here:
All that is needed at this stage is to click on the "Create flow" button. On the page that opens, you need to select the name of the flow, offer, geo and language, then select the necessary landings and pre-landers, domains and check the boxes for additional tools.
When everything is ready, click on the "Create Flow" button and you will receive a link to the landing page. It is on it that you will run traffic in the future.
The last step is preparing the creatives.
What you should pay attention to:
Ideas. Ask your manager for examples of creatives, ask your colleagues for advice, or look for ideas in SPY-tools. We talked about working with them in more detail in this article;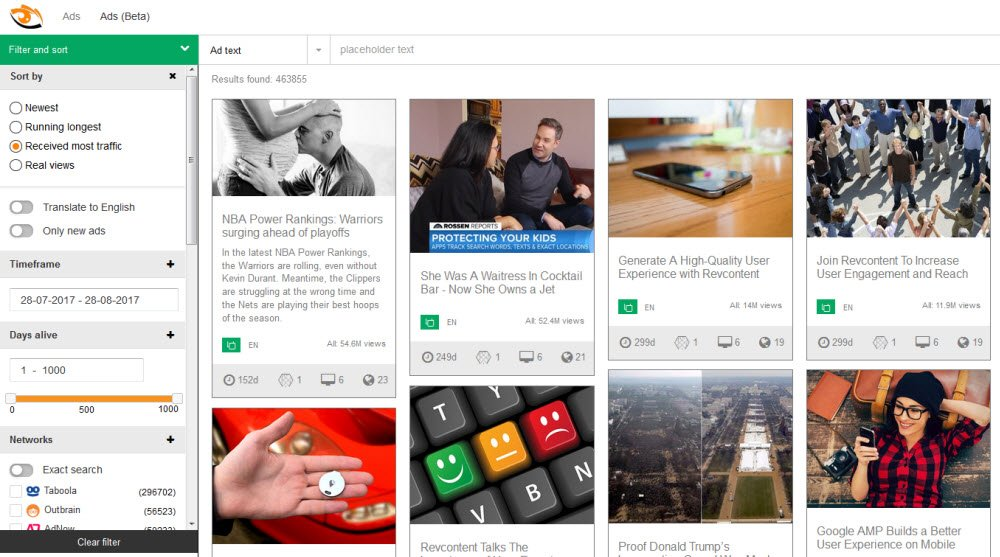 Requirements and restrictions. Consider the rules of the chosen traffic source – they often restrict affiliates in development. It is better to prepare for moderation in advance than to redo the creative dozens of times;
Uniqueness. Creative must be unique. This reduces "banner blindness". In addition, many sites mark creatives, if you try to use such a creative, your account will be banned;
Volumes. The number of creatives directly depends on the specifics of the source and the price of traffic. For example, for comfortable tests in FB, a pack of 3-6 creatives is enough, while dozens of different options can be tested on push notifications.
And when a pack of creatives is ready, it's time to start the technical part and set up ads!
Step Four: Setup and Maintenance
Further work depends on the source of traffic and the approaches you have chosen for your strategy.
The general algorithm looks something like this:
Preparation. Register or log in to the created accounts in the selected traffic source. Set up anonymity tools;
Set up campaigns. Choose targeting, placement formats, campaign times and other parameters;
Pass moderation. Moderation of the selected source will evaluate your creatives and decide whether to allow ads to show.
If everything is done correctly, after moderation, your ads will be shown to the audience and traffic will begin to flow to the landing. Create several test campaigns depending on the source and run traffic for an amount equal to two or three affiliate network payouts.
Launch traffic and run tests, select profitable campaigns based on their results and scale them up! That's all, we went through the launch and figured out the steps on how to do it.
Please note that the algorithm described above is approximate, since each traffic source has its own specifics. For example, in Facebook, moderation goes through a neural network, and even before launching campaigns, you can receive a request for identity verification.
Do not forget about the specifics of sources when setting up campaigns, so you will save time and nerves spent on clarifying the relationship with moderation.
Step five: First start and what to do next
In this section, we have collected tips to help you make your first launch more efficient:
Test different hypotheses. Try different audience segments, change approaches to creatives and landing pages, test different placement formats;
Collect as much data as possible. Install your data collection pixels and build retargeting audiences from day one. In the future, these data and audiences will help make the campaign even more effective;
Limit tests. Do not test dozens of creatives at once. As a rule, for comfortable tests, it is enough to test 5-7 hypotheses. This number may vary depending on the traffic source;
Don't stop testing early. Even if any of the hypotheses did not give results in the first hours, do not rush to stop it. Sometimes optimization algorithms need more time to find profitable segments;
Wait for the decision of the affiliate network. Don't rush to run full traffic if you've already got enough leads. Wait for AN to process them and estimate the percentage of trash.
This tip will help you avoid spending on low-quality traffic and weed out ineffective funnels;
Don't be afraid of tests. It's a risk, but you can't do without it. Tests help you know in advance which approach works. Allocate a separate budget for them, collect as much data as possible and do not be afraid to spend money, it is in any case cheaper than moving "blindly";
Use internal tools. Often, traffic sources offer innovative solutions, such as test tools or advanced auto-optimization algorithms. Use them.
Also, we have prepared some tips to help you scale your campaign after successful tests:
What is scaling? Scaling means increasing the volume of a campaign. Tests are carried out with a minimum budget to identify promising links, and scaling helps to increase the volume of these links and earn more;
Where to start scaling? From the end of the tests – make sure that your funnels are able to consistently generate leads on small budgets. You can scale only proven links that are already generating income;
Raise your budget gradually. Increase your budget by no more than 10-15% per day, depending on your ad network. If the budget is raised too sharply, this will reset the optimization algorithms and attract the attention of moderators;
Expand your audience. Discover new countries and regions, test fresh segments and expand your audience. Keep in mind that for scaling in this way, it is better to create duplicates than to change the targeting of already tested campaigns.
Let's summarize
Start funnel development by defining a budget and traffic source. In the future, it is these parts of the funnel that will help to correctly select other components;
When choosing a traffic source, evaluate prospects, statistics, opportunities and formats, as well as experience and information from other affiliates;
When choosing an offer, pay attention to the network affiliate and its conditions, to the vertical, as well as to the indicators of the offer itself. Statistics, availability of promotional materials, cases, freshness, requirements and conditions;
Feel free to ask the manager for advice. He will tell you which approaches, offers and traffic sources are the most relevant;
Buy consumables in advance, depending on the specifics of the advertising network;
When developing promotional materials, you should build on the success of other affiliates and examples that you can find. Do not forget about the requirements and rules of advertising networks. Otherwise, moderation can take a long time;
At the setup stage, be sure to evaluate the specifics of the source and non-obvious nuances. We especially recommend studying such details when working with large sites such as Google, FB, IG;
If the setup and moderation were successful, it remains to launch traffic to test campaigns, identify promising funnels and scale them.