GEO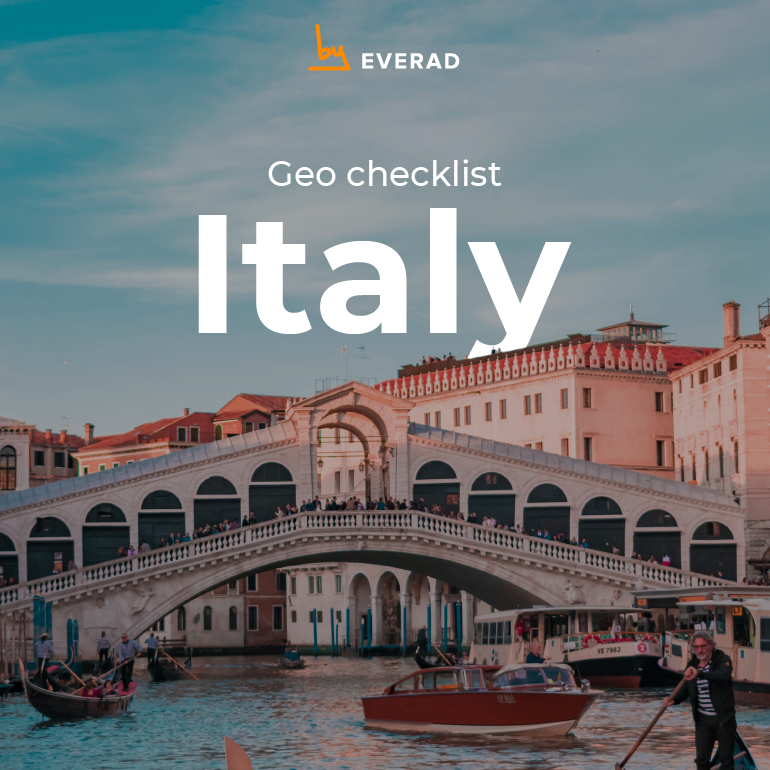 Geo Italy: one of the most profitable in Europe
Today's review will be dedicated to Italy, one of the most profitable geos in Europe. This is facilitated by the fact that Italians are very emotional, they love online shopping. And most importantly, they are solvent.
The language is Italian. Native translation of texts will be done by the Everad team.
Italians are very sociable, which is why they are the more likely to use social networks than other Europeans, and making all purchases on impulse.
Pay attention to the fact that Italians are very fond of high prices and brands, so you definitely shouldn't point to the "cheapest" one.
80% of the population of Italy, according to the age principle, falls into the target audience of nutra-offers.
And here is the fresh top at the end of last week:
Normalization of the cardiovascular system
Approve: ≈50%
Payouts: up to $45
Joint health
Approve: ≈49%
Payouts: up to $40
Man's health
Approve: ≈48%
Payouts: up to $40
Fungal infections of the skin
Approve: ≈51%
Payouts: up to $40
Skin rejuvenation
Approve: ≈45%
Payouts: up to $40
The largest source of traffic in Italy is Facebook (75% of the population actively uses this network). Native traffic is also good for this geo.
Recent case
I would like to note the success of our partners, who have been run traffic Weight Correction offers to Italy for several years now.
We created our own Keto Complex offer, which consists of daytime capsules and a nighttime spray, which allowed us to increase the conversion by 1.5 times. Thanks to the well-coordinated work on the promo and interaction with our CC, the guys reached a stable volume from 40 to 150 daily.
These offers are now public
The good news is that Keto + LightNight Complex (Europe) is a weight correction from today in public and is available to everyone to start!
Approve: ≈46%
Payouts: up to $45
TA: MF 35+
Sources: FB, Google, Natives
Working Approaches: Personal Blog – Weight Loss Story/Science Article about an outstanding student and his latest development
With a similar approach, the author's offer Visoptic DUO Complex (Europe) – the health of the organs of vision. By serving two products on the landing at once (Day/Night) for a comprehensive solution to the problem, we achieved an even higher envelope (although this niche is already stable in the TOP 5 by geo). Also available on the public.
Approv: ≈45%
Payouts: up to $45
TA: MF 35+
Sources: FB, Google, natives
Working Approaches: Blog of a Japanese/Chinese Academician on Eye Vessels, Developed by a Student Prodigy
We also recommend that you pay attention to these offers in other GEOs – they are available throughout Europe and conversion at maximum payouts 🔥
What newbies need to know
The main advice for beginners is to use only the native language and pictures with an emphasis on "family values" (for example, paired pictures on men's health offers are more likely for conversion than single ones).
When placing an order, they will openly talk about their problems, ask questions about effectiveness, composition, and contraindications.  You can increase the conversion by emphasizing and closing these nuances on creatives,
Italy is definitely suitable for those who have recently switched from the CIS to Worldwide Geo – there are many similar approaches for running traffic, and the order of payouts and approvals are also pleasantly surprising.
Ask your manager for help, test, and achieve decent results with Everad! Chiao!