News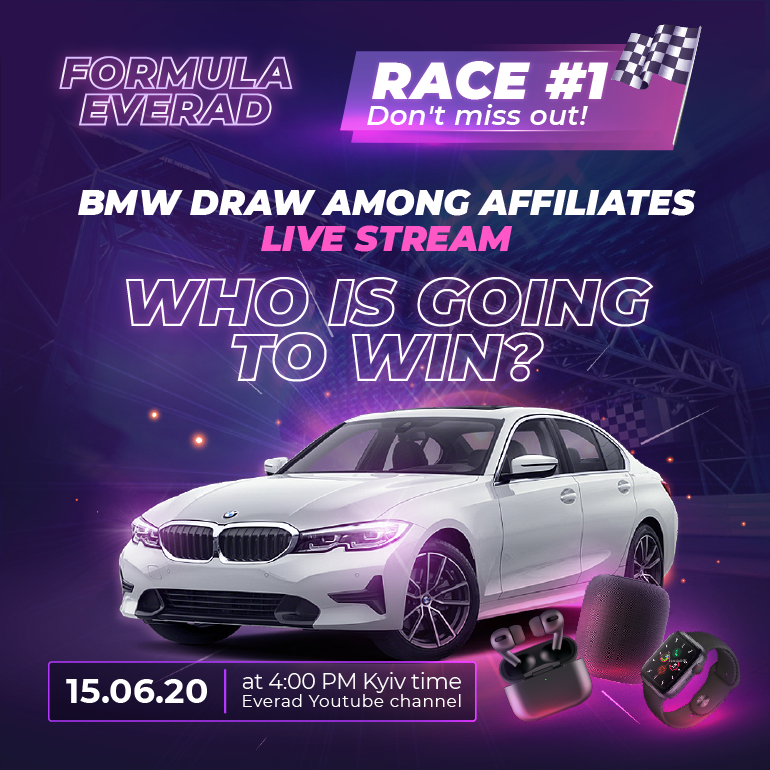 BMW online draw among affiliates: where and when to watch
Get ready to watch exciting BMW online drawing of the largest contest in affiliate industry – 🏁Formula Everad – the next Monday, June 15th!
Who will get the keys for the 🚘BMW 3 Series and other useful gifts among TOP-200?
Who will be awarded the title of the fastest affiliate of the Race#1?
Who is going to win, lucky beginner or the TOP one?👏
Watch stream online – a real intrigue and best of the best competition are guaranteed! They don't need to prove anything – they are already at the TOP! Support your colleagues and be sure – everyone can win a car with Everad! And you can win as well! Wanna try? Activate all your traffic for Race#2, start earning Evers for the Audi A6 right now.
🎁You haven't been working with Everad yet, but don't mind winning some gifts? Join the online stream as a viewer and participate in an additional draw of prizes and bonuses from our partners!
WHEN: June 15th at 4:00 PM Kyiv and Moscow time
WHERE: Youtube channel Everad
👉Subscribe to Youtube channel if you don't want to miss the start of the draw! See ya!
Don't miss the chance to become part of a friendly affiliate family! Welcome to the EveradChat: https://t.me/everadchat