Everad Academy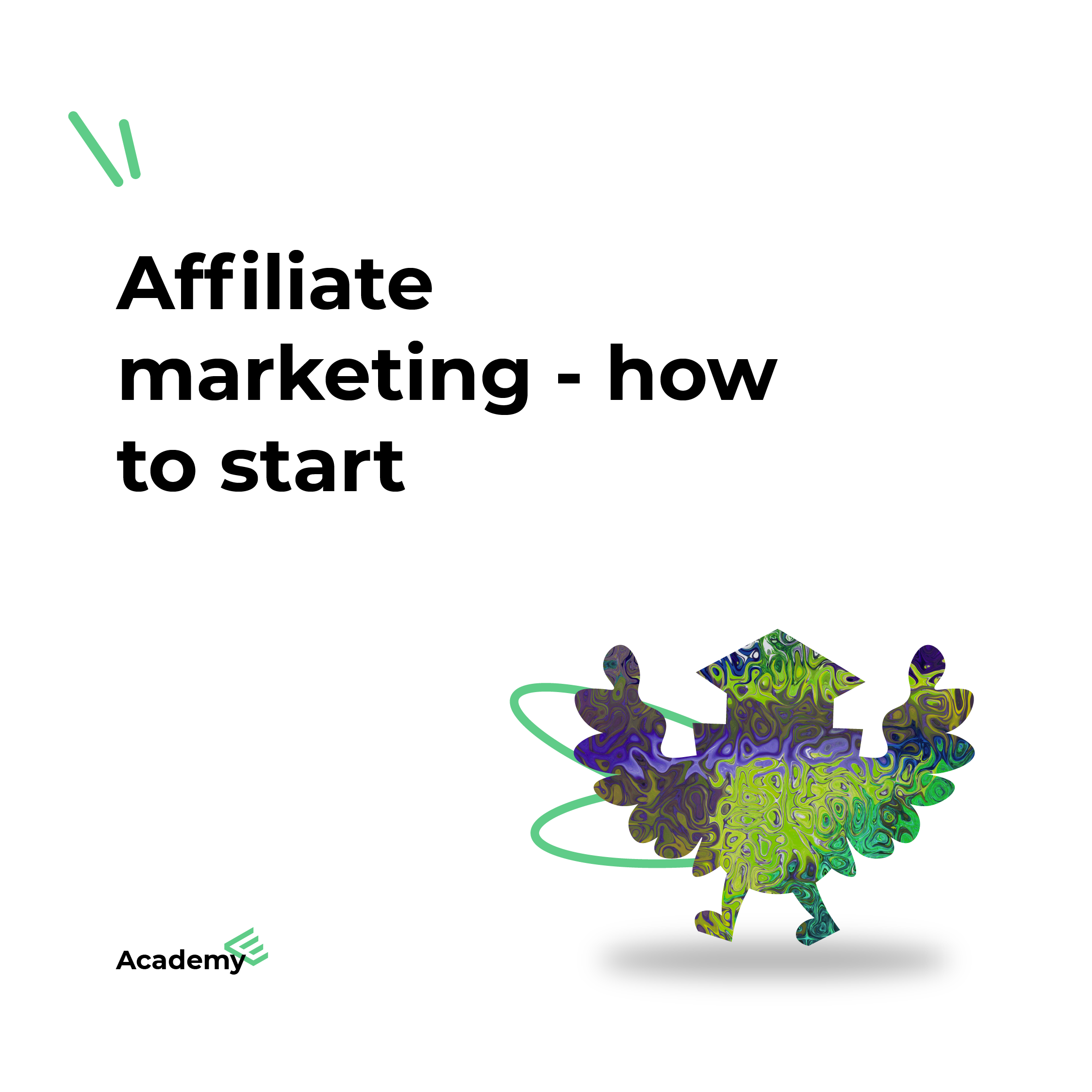 Affiliate marketing: A to Z Beginner guide
Seek and ye shall find. And try to make money online and ye shall encounter the term "affiliate marketing". There's no profit ceiling, it all depends on your skills and investments. Experts rake in dozens of thousands of dollars, but behind these figures are years of hard work and research. Let's get to the bottom of what affiliate marketing really is and what a newbie looking to enter the industry in 2023 needs to do.
What is affiliate marketing
Internet sales aren't really too different from offline ones: companies promote their goods (or services) and attract customers, some of which will become their clients. Two key features of the Internet make it a prime place for ads:
A large number of spots (placements) for ads;
An unlimited number of potential clients.
Billions of people all over the world use the Internet. In almost every country, the number of active users is at least 60%, with their age ranging from 8 to 80 years. In marketing, all these users are called "traffic". And affiliate marketing is when you attract users from different sources (which we'll cover later on) and drive them to offers from various companies.
And there's a fair number of the latter. The goods or services they sell are called offers.
The person engaging in affiliate marketing is called an affiliate or webmaster – a traffic and sources specialist. They perform various actions and possess a wealth of specific knowledge. What does a webmaster do exactly? Let's get to the bottom of it:
Properly identify the TA (target audience) for a specific offer;
Know how to launch ads in various sources.
For each attracted client (lead), the webmaster receives payment. Affiliate marketing features over 10 different payout models depending on the requirements of the offer. The main ones are:
CPA (Cost Per Action) — payment for a specific action the user performs (registering, making a deposit, etc.);
RevShare (Revenue Share) — securing a cut of the profit the company made from the client you brought in (the money they lost gambling or placing bets, purchasing goods).
There are a lot of payment models – you can check them all out here.
Types of affiliate marketing offers
Not just sellers of physical goods are interested in attracting clients. Here is a complete list of offers (and the advertisers that produce them):
Casinos (gambling);
Bookmaker offices (betting);
Physical goods (e-commerce);
Health, weight-loss and growth products (nutra);
Loans and microloans (banks and unofficial organizations);
Sweepstakes (companies collect user data in exchange for letting them take part in a giveaway);
Edu — writing college research papers for money;
Installations — downloading games, apps, utilities to PCs and smartphones;
Dating — attracting users to dating websites;
Adult — attracting users to 18+ websites;
Binary options — getting people to register and use these platforms;
Cryptocurrency — attracting clients to crypto exchanges.
Each of these areas is called a "vertical". For example, the e-commerce vertical, the edu vertical. Many share similarities: gambling and betting are both tailored to users that enjoy, well, gambling, mainly males, while e-commerce and nutra offers utilize similar ad approaches when it comes to creatives and placements.
What's an affiliate program?
Since most often the advertiser company doesn't have webmasters among its staff, it's forced to look for them online. That's where affiliate networks come in.
An affiliate network (also called an affiliate program) — is similar to a labor exchange. It negotiates with advertisers and places their offers on its own platform. At the same time, the program looks for webmasters that will drive traffic (attract users) to these offers. The affiliate studies the list of offers, selects one that suits them and starts driving traffic. Factors that determine the choice of offer are:
Payout amount — for casino offers, they can reach $200 per lead;
Allowed traffic sources — advertisers are allowed to not pay for leads secured from the "wrong" source;
Personal preferences — those who promote gambling offers usually frequent casino websites themselves;
GEO — each offer is tailored to the needs of residents of a specific country. Though, that isn't to say that an offer can't be aimed at dozens of countries at once.
The webmaster attracts clients and receives payment from the advertiser. But the affiliate program also takes a cut of that amount — as payment for its services. This is normal: a good affiliate program helps out its webmasters and provides flexible and attractive conditions, negotiates with advertisers and protects the affiliate's traffic, demanding payment for it.
There's an enormous number of affiliate programs, with many of them tailored to a specific niche:
Everad — nutra;
Gambling Pro — gambling and betting;
Datify — dating;
CpaBro — e-commerce;
Unikom24 — loans.
Each niche has dozens of representatives actively competing for webmaster attention. At the same time, there are lots of affiliate programs that provide offers for several categories at once.
An example of affiliate marketing
Let's take a look at an example. A company that sells inflatable boats — a physical product. The boat is sold at a price of 30,000 rubles. This includes all costs, for example, 10,000 rubles for manufacturing and 10,000 rubles for attracting a client. In other words, the company makes a 10,000 ruble net profit from 1 lead. But there's still the matter of properly managing the 10k that the company is willing to spend on 1 lead. To self-alleviate the risks, it turns to an affiliate network, which in turn will take a 20% (2,000 ruble) cut for example, making the webmaster payout – 8,000 rubles. At the same time, the webmaster spends their own money on ads, while not having any guarantee that a lead will be secured. Thusly:
The company doesn't stand to lose any money, but foregoes a considerable part of the profit;
The affiliate program makes money by charging a service fee;
The webmaster isn't forced to purchase the product to then resell it, but they are risking their own money.
Depending on the vertical, ad expenses vary. The overall rule is the following: the higher the payout per lead, the more investments are required to secure it. This system has been flourishing for over a decade now, since all parties remain in the black while performing their activities, without needing to take on the responsibilities of others.
In large teams, all the affiliate tasks are divided among the team, with each member doing what they're best at – we have a separate article about that – Solo or teams?
Key affiliate marketing terms
The first thing that can confuse newcomers about affiliate marketing is its terminology — there's over a hundred different abbreviations, slang expressions and official terms only industry specialists are aware of. Let's go over the basics, in addition to the ones we've already covered above:
Creatives — pictures, videos and banners that serve as ads;
Landing (page) — the selling page. This is a one-page website that features a form for the client to enter their info into – their name, phone number, email, etc. And the product itself. Landings are most often utilized when promoting physical goods and nutra products, with many affiliate networks providing affiliates with their own quality landing pages;
Tracker — a traffic distribution system. By connecting multiple offers to the tracker, you can automatically direct users to a more suitable one (for example, based on the user's GEO, in case you're getting traffic from several countries at once);
Target (targeted ads) — a way to promote offers (and other things) by manually picking the TA (target audience) settings — by setting the age, location and interests of your potential clients;
Context (contextual ads) — ads will be shown on websites that are as topically appropriate as possible to the thing you're promoting;
Case — an example of a successful launch of an ad for whatever offer. The case features approaches, creatives and all other details. An anticase is an example of an unsuccessful ad launch;
Bundle — a comprehensive approach to driving traffic to a specific offer, containing all the targeting parameters, budget details, etc.;
Key words — frequently used phrases and individual words the person uses to find the solution to whatever problem they have (including purchasing goods);
Profit — net income;
Hold — the period during which the affiliate program temporarily retains the money the affiliate has earned. During this time, the managers assess the quality of the affiliates traffic (make sure it isn't fraud). Hold ranges between 7 and 30 days;
Fraud — fraudulent activities on part of the webmaster. Used when the latter utilizes whatever prohibited tactics (motivated traffic, bots) to get leads the advertiser won't be able to profit from;
Motivated traffic — users that perform the offer's target action (register, make a small deposit, etc.) and collect a reward from the webmaster;
Expendables — materials that you'll need to launch ads. These include social media accounts (which often get banned), proxies, phone numbers, emails, bank cards to pay for ads, etc.
We recommend that you study the full list affiliate marketing concepts.
Affiliate marketing traffic sources
Traffic source — a place where a webmaster buys ads from and where their audience resides. The main traffic sources are:
Facebook — the world's largest social network with several billion unique monthly visitors;
VKontakte— the main source of traffic from the CIS region;
Telegram — a large messenger with enormous potential;
Contextual networks — Yandex Direct and Google Adsense;
Teaser networks;
Push networks;
Clickunder, popunder networks;
Websites.
It is better to read in detail about each traffic source in our specific article.
How to enter the affiliate marketing industry
Here is a step by step plan to start launching ads and making money:
Training. Good luck gaining any ground in whatever niche without training. Start by following affiliate marketing-themed websites and channels (starting with Affhub), subscribe to Telegram channels and enter chats to familiarize yourself with the terminology and the way specialists think. If you can afford it, purchase access for special courses. But keep in mind: first of all, the affiliate marketing industry is brimming with scammers and fake "gurus" and second – all the info is technically available for free online;
Figure out What you know and what you are good at doing. For example, when promoting betting or gambling offers, knowing the way bookmakers or casinos work will benefit you greatly. But don't think that ties you down to a specific vertical — it's best to try a little bit of everything to see what works best for you;
Find a suitable affiliate network. Many of them scam their webmasters, so be sure to go over reviews online. Also, keep in mind that some of them don't accept beginners. While others (like the Everad nutra affiliate program) are willing to give newbies a helping hand at the start;
Have a chat with the affiliate program's manager. They'll help you pick out an offer based on your preferences, budget and capabilities;
Prepare expendables and creatives (you can either buy them or design them yourself);
Make a deposit for your ad account;
Launch ads. Keep track of their performance: if they do well — scale them (increase your ad budget), if they don't — edit the settings or disconnect the ads entirely;
Track leads in your affiliate program profile;
Wait for the hold to be over and withdraw your earnings.
Nothing complicated, right? But each step has its complicated moments. For example, shaving (stealing leads) – when a fraudulent affiliate program decreases the payout amount, and don't get us started on launching ads, that's a whole other story. The best option would be to become a permanent or part-time member of an affiliate team to get experience.
Affiliate marketing: pros, cons and pitfalls
For convenience sake, let's go over the pros and cons of the industry.
Pros:
You're your own boss — you aren't tied to a specific workplace and are in charge of your own schedule;
There is an unlimited number of clients and areas to work in;
You can find all sorts of info on ads and campaigns online, with many other webmasters willing to share it free of charge;
No income ceiling;
The affiliate marketing community is an exciting one — we love to have fun and often organize different parties. By the way, Affhub is one of the top dogs in this area — check out all the events.
Cons:
Profits are not guaranteed. It all depends on your skills and the amount of money and effort you invest;
Lots of scammers. People who failed at affiliate marketing often become scammers and deceive webmasters into selling their accounts and other vital tool;
Mandatory constant studying and self-improvement. The online marketing industry is a fast-changing one, and if you want to stay on top, you'll have to keep an eye on all trends, rules and restrictions.
Conclusion
Affiliate marketing most often attracts people without money but with the desire to make serious bank. That motivation will come in handy since affiliate marketing is an all-encompassing industry without any limits. You can start driving traffic completely investment-free (by utilizing free traffic sources), and the demand for quality specialists can find you stable work in an affiliate team. Study, work and communicate with others – keep moving forward confidently and you're bound to reach your goal.