News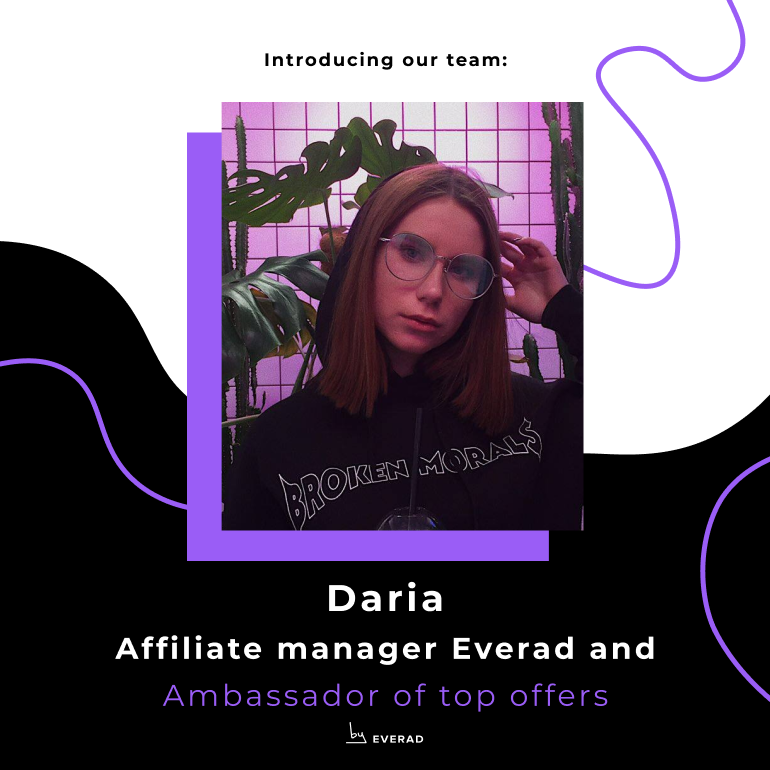 Acquaintance with the affiliate manager — Daria. Ambassador of top offers
Today our manager Dasha answers questions.
Dasha's favorite phrase is "Don't be afraid of anything, any mistake and misfortune is an invaluable experience", and the ideal partner in the face of affiliate for her is a person who knows what he wants. She loves very much when a partner is open to dialogue, sociable and hardworking. Take note.
More interesting information in the mini-interview below.
How did you get started in affiliate marketing?
Three years ago I got a job as an advertiser manager in an advertising network. I had no idea what kind of sphere such "affiliate marketing" was, and then I understood it and it became very interesting to learn as much as possible about it 🙂
Which GEOs are the most profitable to work with now?
Hungary, Romania, Latvia and Lithuania. But I am always in favor of testing different regions and diversifying traffic, because profit can be found everywhere.
What Everad offers would you recommend to run traffic to now and why?
In this question I love the classics, my top 3 are:
cardiovascular health
man's health
joint health
I love them for their stable approval, proven working approaches and the ability to give high payouts to our wonderful partners 🥰
What are the first steps for a newbie who just signed up with Everad and wants to start running traffic?
It is important to study a lot and make every effort to understand the issues of working with traffic. Fortunately, the network has a huge amount of free information on affiliate marketing, and you can also participate in our Everad Academy for beginners. For the record, you need to unsubscribe @lera_everadcpa in telegram.
It is also important to accept recommendations from the manager, not to be afraid of the first tests and not to give up, even if they are unsuccessful.
And everything will work out! All tops were once beginners 🙂
What not to expect from affiliate marketing?
I think a lot of people got frustrated at the beginning or even gave up affiliate marketing when they realized that everything was not so simple. In fact, if you really have a strong desire and make an effort, then big money can be seen soon enough. The main thing is not to quit halfway.
An affiliate in 2023 must:
flexible – quickly adapt to changes / innovations (and there will certainly be a lot of them)
patient – to understand that out of 10 unsuccessful tests, the 11th one will be the most profitable
creative – constantly improve working approaches and look for new links
ambitious – do not lose the desire to test different niches and geos, thereby increasing profit
sociable — networking at conferences/meetups and actively communicating with the manager
What are the prospects for Nutra?
Limitless 😅 Actually, the eternal vertical 🙂
A large number of niches, geos, approaches – give a huge space for new tests and earnings.
Tell us briefly about your working day at Everad
The morning usually starts with checking statistics and approving, in order to see in advance where we fall short and ask the call center to tighten up the indicators before the partner writes.
Well, otherwise, the main part of the working day is the selection of offers, rates and bundles for new launches and support for any emerging issues of the affiliate 🙌🏻