News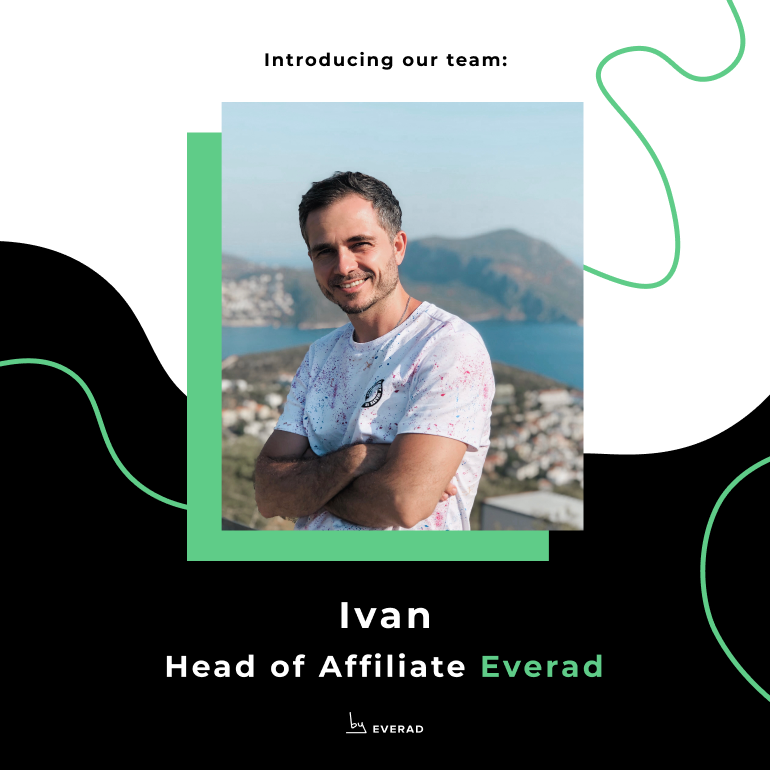 Interview with Head of Affiliate: how to manage affiliates in Everad and not go crazy
Today our Head of Affiliate answers questions.
Vanya has been in affiliate marketing for over ten years. He started with essay sites and software products, and now he manages the affiliate department at Everad. Having experience in dating, gambling, betting, and software, he is ready to say with confidence: specialists with expertise in the Nutra are among the strongest on the market.
In his work, Vanya always sets clear goals and chooses a clear growth strategy. Appreciates high-quality team management when everyone is friendly, united and focused on results. Dislikes uncertainty and snakes. Currently looking for two managers to join the team with affiliate experience.
But we will not reveal all the cards to you, so read the mini-interview 😉
What are the tasks of the Head of Affiliate at Everad?
Oh, if I start listing all the tasks, then we will all fall asleep here 😁 I will name some of the main ones:
Building and implementing business processes in a team
Traffic margin control
Quality team management
KPI performance monitoring
Constant monitoring of competitors
Market analysis and assistance in opening new geos
What can you say about Nutra? Is the niche experiencing a rise or fall? Is it eternal?
Nutra lives and will live! Of course, it has also undergone market changes, but now all niches are experiencing it. Nutra remains an eternal niche as long as the Internet works. More and more purchases are made online and Nutra products are no exception.
What difficulties do affiliates most often face on the way to profit, in your opinion?
Bad conversion, approve a lot of trash and wrung out funnels. But our team is maximally sharpened to help the guys with all the difficulties.
Tell us about the offers and GEOs that you should fill in right now.
Romania – male health Uromexil Forte (male urination). Excellent approve of 55%+, normal conversion, and managers will always help with cool funnels. Payouts up to $35.
Hungary – Hearing Health Ottomax+. Approve is about 60%+, now it flies wildly and there are cool funnels. Payouts up to $33.
India – men's health Urotex Forte. Excellent conversion. If only FB did not ban it. Approve 50%+. Payouts up to $11.
What qualities are important to you in employees? Does Everad currently have new positions?
Now we are actively expanding and looking for at least two managers with affiliate experience and are ready to consider cool salespeople with no experience.
And in fact, our doors are always open for guys with experience in Nutra. There will always be a place in my team.
Most of all I appreciate the system, sociability, openness and the ability to pressurize 😎
How does your weekday usually go?
I get up at 7:15. Then I proceed to personal affairs: exercises, running, meditation, etc.
Then the work day begins. Of course, first of all, I look at the statistics. Then I control traffic marginality for a number of GEOs. Then we have a meeting with my guys, where we analyze cases of traffic drawdown, go through the current sprint and determine the task plan for the day. Then, usually from 12 o'clock, I have a parade of calls, which sometimes ends at 7 pm. Usually, these are meetings with other departments on a number of joint processes. During breaks, I try to have lunch and answer requests for conditions, rates, etc., as well as monitor the implementation of tasks for the day and, in general, manage the team. The working day can end at 8-9 pm.
Check out 5 of your personal qualities that help you manage your affiliate department.
Consistency
Empathy
Leadership
Quality feedback
Task execution control
Name 3 advantages and 3 disadvantages of working in affiliate marketing.
Advantages:
Experience in one of the most promising areas that will always work
A huge community of specialists and cool networking
Many projects, verticals, and areas where everyone can express themselves
I can't point out any major disadvantage. There are some nuances. For example, there is no stability here, you must always be flexible and adapt to any market changes. Be in touch: 24/7. Therefore, for those who are used to working strictly from 9 am to 6 pm, this is not the place 🙂
How to start a beginner in affiliate marketing?
If we are talking about beginner affiliates, then you need to start with the available material on the Internet on training, anti-cases, and what mistakes not to make. Be sure to take some courses and master the principles of operation of a particular traffic source. Be patient and don't expect everything now and at once. Make mistakes and don't be afraid to try again 💪
Do you have secrets and life hacks for working with affiliates?
Generally speaking, our affiliates are our friends first and foremost. And we are always honest with them.
What do you prefer to do and where can you meet in an informal setting?
Before the war, I was engaged in kayaking on the rivers. Several times a year I went with friends on a 3-day rafting trip along different rivers of Ukraine. There are already about ten rivers on my account 😎 I also love to travel. I used to try to visit at least 3 new countries a year.
Tell us about the training and courses you took.
Training in leadership, sales, working with clients, time management and a bit of buying. Previously, I also took CEO courses.
What are you afraid of?
I don't like uncertainty. I also don't like snakes.
Name something that can make you happy.
My family and my success in everything I do. And, of course, travel and river rafting! 🤫
What do you like most about your position? Have you ever wanted to leave affiliate marketing?
I like the fact that almost every day there are some challenges that invigorate and force you to be in constant good shape! I like that I have a lot of influence on the strategic processes within the company. I like that our CEO Sasha will always help with advice and stand up for us.
The Nutra industry is one of the toughest on the market. I know this for sure because I had experience in dating, gambling, betting and software. Sooner or later, everyone, probably, has such a desire. But as they say, "What doesn't kill us makes us stronger." Experts with experience in the Nutra, in my opinion, are among the strongest.