News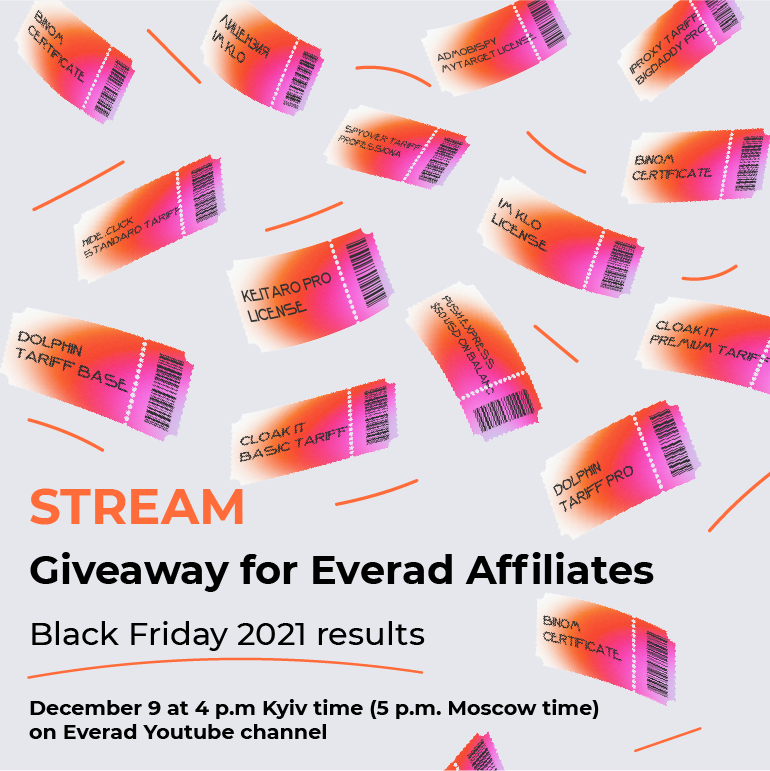 Stream of the week: Black Friday Giveaway by Everad
Do you want to get iPhone13? Waiting for gifts by services and partners? Wishes come true with Everad😍
Join the live stream by Everad studio and win Apple gadgets and gifts.
All this time, your approved leads have been credited to the competition account, and now you just need to join the live stream and wait for your gift.
What has Black Friday prepared for you:
iPhone 13 Pro Max 
Apple Watch Series 7 
Apple AirPods 3 
Affhub meetup tickets 
AWC Dubai Tickets 
Exclusive Merch Bundle 
Keitaro Pro license (3 months) 
Binom certificate (3 months) 
IM KlO License (lifelong) 
CLOAK IT Premium and Basic tariff 
Hide.Click Standard tariff (1 month) 
SpyOver tariff Professional 
AdMobiSpy myTarget License (1 month) 
Iproxy tariff BigDaddy Pro (3 months) 
Dolphin PRO tariff (1 month) 
Dolphin tariff Base (1 month) 
PUSH.express (50 USD on balance)
Good luck! 💪
Don't miss the chance to become part of a friendly affiliate family! Welcome to the EveradChat!