News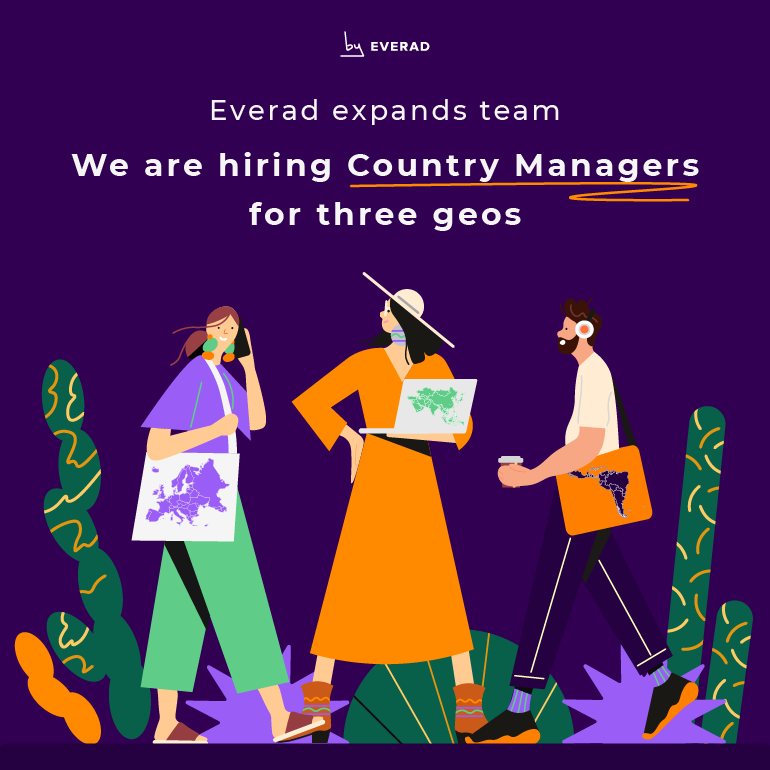 Everad is looking for Country Managers for three regions
Everad is a global direct advertiser and CPA network in Nutra vertical (Health&Beauty). CPA network is a platform and an advertising model where publishers are paid for an action that is taken as a direct result of their marketing. We started in 2012 with a small team on board. Now we cover markets of Europe, Asia and Latin America.
Over the years, we have received the title of «Best Affiliate Network», and our company has been recognized as one of the best IT employers in Ukraine according to the DOU rating.
We are looking for an adaptable, successful, and experienced country manager as we increase our market share overseas. In this role, you will be responsible for the success of our expansion into a foreign market, overseeing all aspects of the business.
In order to succeed in this position, you need to be highly driven, have a passion for learning and being engaged with new cultures, and be willing to build a business from the ground up.
The country manager will lead all operations to ensure the profitability of the company.
You will be responsible for managing all operations within a region. This involves taking responsibility for profit, revenue, cash and quality targets.
You should also be comfortable frequently traveling on business trips or living abroad.
Your Key Goal is —to generate profit in the assigned cluster of countries.
In our company we have 3 clusters: Europe, Asia and Latin America.
Your Day to Day:
Manage every aspect of our expanding operations in the region;
Support all business activities in the region, being responsible for all growth and quality goals;
Deal with the launch, development and management of local service/product offerings from production to marketing;
Collaborate with local businesses to acquire all necessary resources and services (fulfillment, delivery services, goods manufacturers). Negotiate with vendors and service providers;
Conduct extensive research regarding the market and learn everything possible;
Collaborate with the company's service departments: Production, Supply Chain & Logistics, CPA, Call Center. Monitor performance at all levels;
Deliver monthly, quarterly, and annual reports on progress and development. Work to ensure deadlines are met and budgets are maintained;
Adapt the business model to be culturally relevant without losing its identity;
Contribute to the overall global success of our company.
Role Qualifications:
Master's degree, MBA or other relevant fields, strongly preferred;
Postgraduate degree in sales, finance or similar is also acceptable;ё5 years' or more experience in management in an international business setting;
Significant experience in the finance, sales, call/contact center and marketing fields is strongly preferred;
The ability to provide excellent customer service;
Good people-management skills; Fluent English;
Outstanding negotiating skills;
Analytical thinker with superior problem-solving skills;
Experience living abroad is advantageous;
A natural leader who inspires and motivates those around them.
We Offer:
Opportunities for professional and career development;
Market expertise and highly professional team;
Informal style of leadership and communication;
Flexible working arrangements: from 9−11 am to 6−8 pm;
Weekends and holidays according to the laws of the region (always available and resolve issues as needed);
Compensation: based on interview results.
Where to send resume:
Choose the region with which you are ready to work and send your resume to https://t.me/Rozvadovskaya