News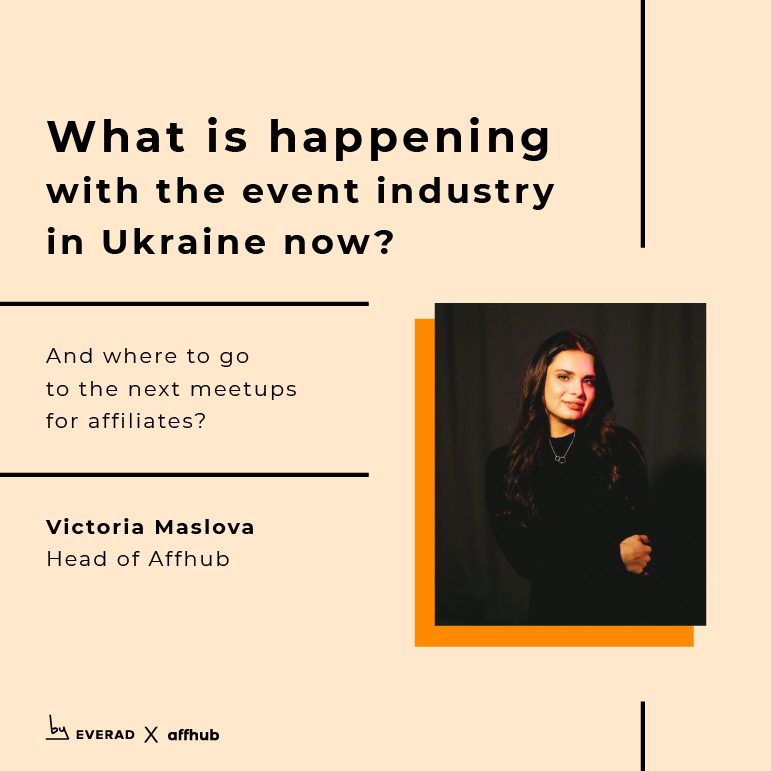 What is happening with the event industry in Ukraine and where affiliates gather now
How is Affhub doing now? What is the team doing?
A couple of days before the start of the war, we held our party with the top representatives of the affiliate industry in Kyiv. The event was great as always, but then we could not even think that this was our last pre-war event. On February 24, I was supposed to fly to the AWA conference in Dubai, and our team was going to the international event conference in Lviv. There were a lot of plans for the year, different countries, events in Ukraine and Russia. But the war dramatically and forever changed our plans and the direction of the project.
Affhub didn't stop working. We took a clear position, in the first month of the war we collected and provided verified information and links to donations in support of Ukraine, supported the affiliate troops of Ukraine, connected people with each other for productive work. By the way, in these Internet troops there were citizens not only from Ukraine, but also from Russia and Belarus, too. Now we are actively planning a number of events abroad in order to unite our affiliates around the world. Soon there will be announcements of events and a very cool event from our project.
What is happening with the event industry in Ukraine now?
The industry was completely at a standstill for the first 3 months of the war for obvious reasons. This is a difficult time not only because of the financial aspect, but also because of security issues, even if we are not talking about front-line areas. In almost all cities of our country, several times a day, air raid alerts do not stop sounding. And every day, Ukrainian cities are subjected to rocket attacks from Russia. Not a single company will allow itself to hold events even in a business format in such conditions.
The other side of the issue is the moral component. How can you imagine entertaining events (alcohol/show programs/noisy music) on the territory of Ukraine, when civilians and soldiers who protect our country from aggression from a neighboring state die every day? It's complicated. I am very positive about the events that our media personalities are now holding in the subway, or in a bomb shelter. Entrance to such events is free or for voluntary donations to Armed Forces of Ukraine and war victims. We need to continue to live, we need to support the economy in order to keep the financial front. You need to be strong morally, and such events make you feel that you are not alone, that we are a whole country and we will withstand everything.
When can we expect the first meetups and conferences?
On the territory of Ukraine, I think that for sure only after the end of martial law in the country. I repeat, the issue of security is extremely important now and no one will ever allow himself to put people at risk. But, by the way, the idea of ​​holding a business format meetup in a bomb shelter seems interesting to me. These are our realities since February 24.
What is the alternative? Are there any online events, competitions planned?
Yes, of course, we are all accustomed to the online format since March 2020 thanks to COVID-19 and have developed well in this direction. Therefore, holding streams, online meetups and conferences is an option to stay in touch and participate in the informational life of the affiliate industry.
What countries are you currently considering to host affiliate events?
Initially, these are European countries with a huge concentration of webmasters from Ukraine and Russia (those who have decided to leave). Also familiar to us geo: Bali, Cyprus, Spain and Turkey. Attractive geos now, in addition to those mentioned, are the countries of Asia and Latin America.
Where can we meet Affhub in the near future?
For the time being, we are not considering the possibility of holding events in Ukraine, because we cannot guarantee the safety of our affiliates. But we will definitely arrange a meeting for our community members as soon as it is possible to do it safely. I'm sure it will be a special, very soulful event for everyone. Now we are planning a number of events in Europe and Asia. Announcements coming soon, stay tuned for updates from the Affhub team!