Everad Academy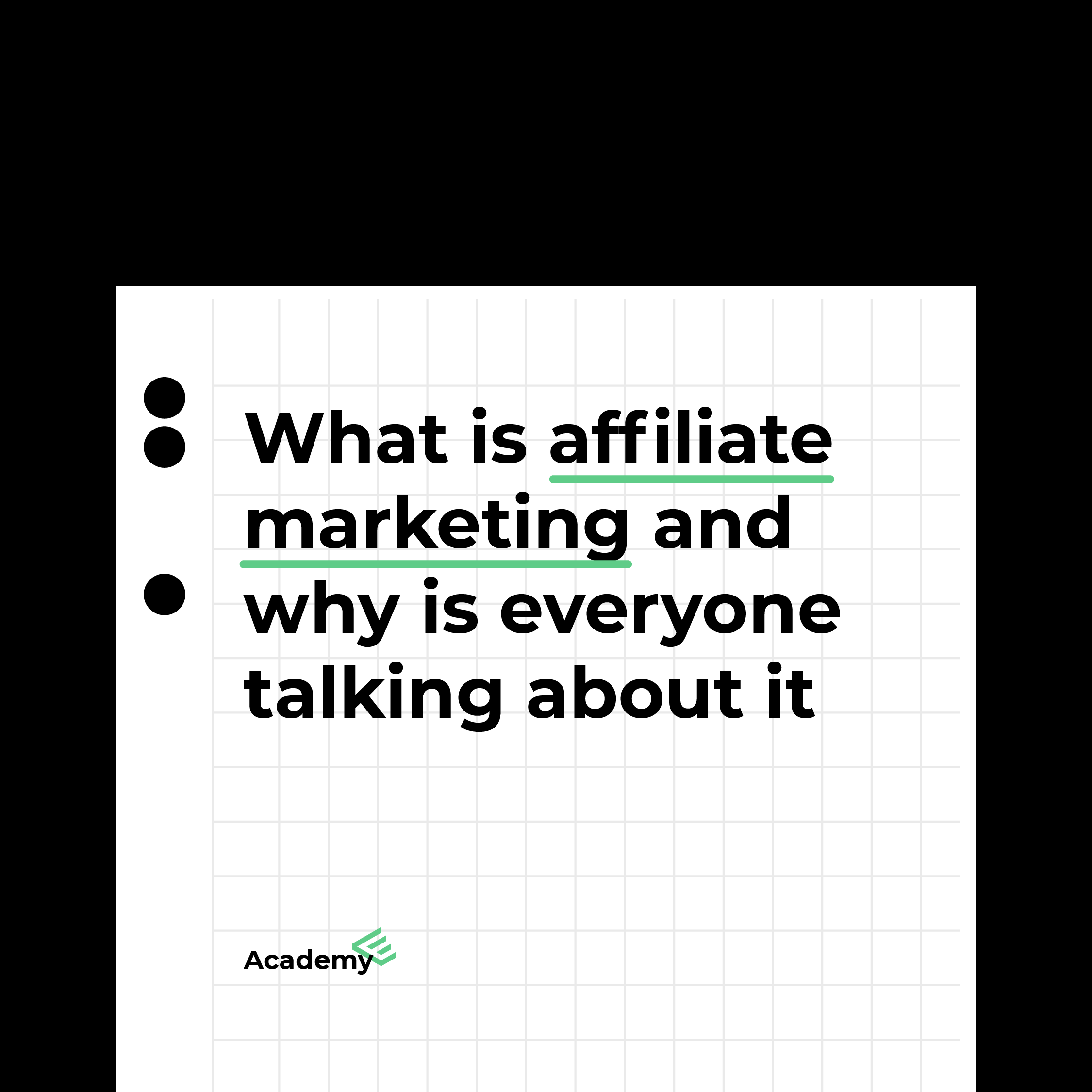 What affiliate marketing is and why it's the talk of the town today
Affiliate marketing is gaining more and more momentum around the world. Affiliate conferences pop up here and there constantly, profits of various companies and teams skyrocketing with each year, with the term "webmaster" becoming a completely ordinary word. Which is why now is the perfect time to capitalize on all the possibilities the industry offers and get into affiliate marketing?
But first, let's figure out what affiliate marketing even is.
Google's here to help: affiliate marketing is the promotion of a business, goods, products or services online with the help of partners. In this case, webmasters work with traffic and drive to the advertiser's website for a specific reward. A bonus and major advantage of affiliate marketing is that you can sell the goods of different companies while getting paid by each one. Meaning you can scale your business as much as you have the capability of doing.
Networking is a major part of any webmaster's life. If you take part in an affiliate conference or meetup, you'll see plenty of determined young people, ready to talk business and negotiate with new partners. Take a look at the conference participants and you'll immediately see that people in this industry know how to make money. People from different areas turn to affiliate marketing, applying and adapting their experience to multiply their income with the help of new approaches. Specialists in this area are constantly experimenting with niches, products and traffic sources, they test out new audiences and expand their list of GEOs. Which is why there's never a dull moment for a webmaster.
Having once been at a conference and seen webmasters who live for what they do, many young people will also want to become part of a community that is constantly evolving, exploring new things, making new acquaintances and striking lucrative deals even in the informal setting of an afterparty. These are the people that really know how to make money, have fun and grow day after day. So how do you become a webmaster like that?
How to become part of the community?
There are many different niches, affiliate programs and services in the industry. But anyone who wants to be part of the affiliate marketing world needs to turn to and trust the best. For example, the Everad company — a direct advertiser in the nutra vertical. How come? First of all, nutra is an eternal sector, doomed to never lose its relevance. Second, the company's been around for a while now and has already become a distinguished expert in its field. And third, Everad has claimed 2 prestigious awards and been declared the best. And if you're starting out, what better place to choose than the best, right?
So what makes Everad truly the best?
Everad is a direct nutra advertiser with 400+ of its own offers in 45 GEOs across Latin America, Asia, Europe and the CIS region, its own call center and logistics network. The company works tirelessly to create high-demand offers with great approval rates and constantly raises payouts to provide the best conditions on the market for its partners.
Just like any other sector, the affiliate marketing industry has award ceremonies, rewarding the best for their achievements. 2021 turned out to be a particularly good year for Everad: MAC Awards recognized the company as the best product affiliate program, while Kinza Awards declared us the best affiliate program in the nutra vertical. Each award is proof that our entire team works productively and tirelessly all around the world.
Here's what Alexander Yasyukovich, CEO of Everad, has to say about the company:
We launched in 2012. Even back then we were full of serious ambitions. While most companies choose to take their first steps in local markets, we decided to adopt a different approach and started off with the other Eastern European countries. Looking ahead, I will say that this decision was fully justified. We already have around 200 thousand webmasters and thousands of active users.
The company applies an integrated approach to its work activities. Every original offer is unique, and every employee is a true professional, who only brings our closely-knit team even closer together. To provide the best results, company employees from all over the world work shoulder to shoulder: from the production section that creates the offers and the call center that consults the seller, to the accurate and timely logistics system, as well as managers who are always in touch.
This is more than just words. And the people who work at Everad confirm this.
Allow us to quote, Margarita Savchenko, head of support at Everad
Even if you don't know what affiliate marketing is but you're already interested in the concept and you know a little about traffic — you just have to give promoting nutra offers a try. After all, people find themselves caring for their health and beauty every day — each one of us wants to feel healthy, active and beautiful. And our company, which has been on the market for a decade already, is proof that nutra was is and always will be relevant.

After you register with our AP, you'll immediately get a personal manager who'll answer all your questions, provide tips for offers, help with payouts and bundles. For all you beginner affiliates out there, we also have free training materials that will help you dive deeper into the niche and understand how to make money here. Everad is an advertiser who takes care of its partners and is willing to create the most comfortable conditions possible for each of them. Not to mention that besides your manager, you can always contact our support team, which strives to be available 24/7 to help out with whatever problem you may have.
It's up to you if you want to get better with every day or not. But if you do decide to master affiliate marketing, Everad's the place to do it!