Offers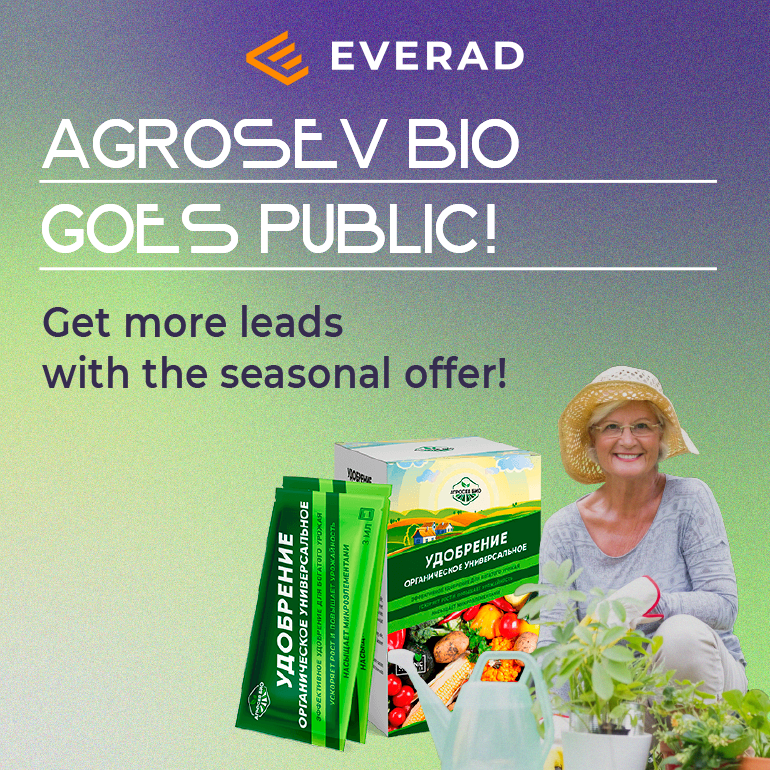 Bumper harvest for your TA: whitehat offer Agrosev Bio goes public!
Meet the new whitehat offer – Agrosev Bio! Are you ready to get more leads and make cottagers happy? Your target audience will have a bumper harvest with fertilizer Agrosev Bio.

Some offers are relevant at any time of year and some have seasonal popularity. If you start your campaign at the appropriate time, you may get enough profit.
Agrosev Bio is a seasonal offer. It is used during the spring and summer periods. Any self-respecting cottager considers it necessary to have the largest harvest ever. An organic fertilizer will help in this situation.
It is a whitehat offer. It means that you may use different sources in your campaigns: Yandex, Facebook, Google, teaser networks and, as a result, to reach a bigger audience of cottagers.
GEO and Payouts:
🇷🇺 Russia
Payouts: from 850 rub
Approve: NEW
🇰🇿 Kazakhstan
Payouts: from 800 rub
Approve: NEW
Link: dashboard.everad.com/offers/744
Combination: Life, RU, Now everyone can harvest a gigantic crop even in a small area (life-p196-agrosev-bio.realstory-blog.com) + Main, Green (p196.agrosev-bio.ru)
Target audience
The main audience is women 55+ (W – 80%, М – 20%) who want to grow the bumper harvest.
The main reasons to make a purchase:
to have a better harvest than your neighbor
to get impressive results in a short time
the fact that the product is organic
The target audience here could be divided into three main types. Find information on each type below.
TA 1. Gardening as a hobby
She is an elderly lady in her 70th who has a soothing hobby – gardening. A piece of ground isn`t large, just quite enough to grow some vegetables. She is looking for cheap organic fertilizer.
TA 2. Experienced cottager
This active lady has a long experience in gardening and vegetable growing. She is 60 or older and has a big family which consumes the biggest part of the harvest. Still, she has some fruits and vegetables to sell. She uses both organic and chemical fertilizers. Her dream is to find a good remedy to treat all the plants and increase the harvest.
TA 3. Retired factory worker
The target audience of the offer includes not only women. He is a retired factory worker, aged 65 and older. He permanently lives in the city but visits his cottage on a regular basis to grow vegetables, fruits and berries. He needs some plant (especially trees) disease treatment.
Agrosev Bio – description:
This product is necessary for the soil to replenish important microelements that affect the development of different types of crops. The product can be used regardless of the type of plant and stage of development. Its components create additional protection of plants and the crop itself from external factors.
Help your TA to get an impressive harvest and make a profit!
Don't miss the chance to become part of a friendly affiliate family! Welcome to the EveradChat: https://t.me/everadchat