News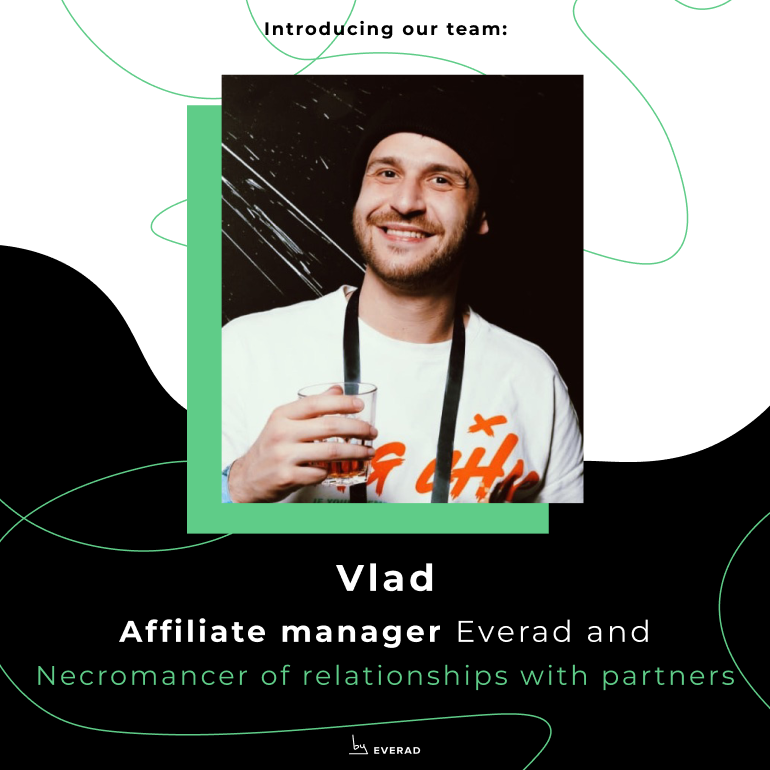 Acquaintance with the affiliate manager — Vlad. Necromancer of relationships with partners
We continue to show you the employees of our friendly team 😉
Vlad is the new aff-manager of Everad, with whom our affiliates are already actively running plus. He has been in affiliate marketing for 6 years already and with 100% confidence can call himself a specialist in communication and understanding of our niche.
Vlad proudly claims that every launch of his affiliates is a successful case 😎 Shall we check?
Read a mini interview with our manager.
How did you get started in affiliate marketing?
For the most part, I started with lead generation: searching for affiliates, searching for advertisers, comparing conditions and requirements.
Which GEOs are the most profitable to work with now?
There are no bad GEOs, there is a lack of determination on the part of the affiliate to continue testing and find a profitable link. In general, Romania, Lithuania, Latvia, Hungary, Chile, Mexico, Indonesia, Thailand are top 🔥
What Everad offers would you recommend to use now and why?
For me, there are 4 pillars to be equal to: hypertension, joints, men's health and vision.
What are the first steps for a newbie who just signed up with Everad and wants to start streaming?
First of all, to understand the technical side, without technical knowledge it will be difficult for a beginner to understand what it is and where it comes from. Next, determine for yourself a niche in which you would like to develop your skill. And start working on it.
What should not be expected from affiliate marketing?
There is no "money" button. With minimal effort and investment, you will not get a lot of money. Even in affiliate marketing, everything is the same.
Affiliate in 2023 must:
Be patient, creative, be able to listen to your manager's advice, be ready to test new niches for yourself and never give up at the first opportunity.
What are the prospects for nutra?
Nutra is the eternal vertical. People got sick, get sick and will get sick. And always, each of us, will worry about our health.
What phrase or quote would you say is your life motto?
"When man could no longer trust himself, he begins to believe in fortune."
So I never doubt myself.
Tell me briefly about your working day at Everad
In the morning I look at the status of partners and scatter requests to the call center; I write in chats to the guys; I prepare fresh collections for all geos and send them out; I accept incoming applications from new partners and help them settle in with us; I lead the active ones, I kick the inactive ones, I resurrect the dead … It's a joke, I don't kick the inactive ones)))