News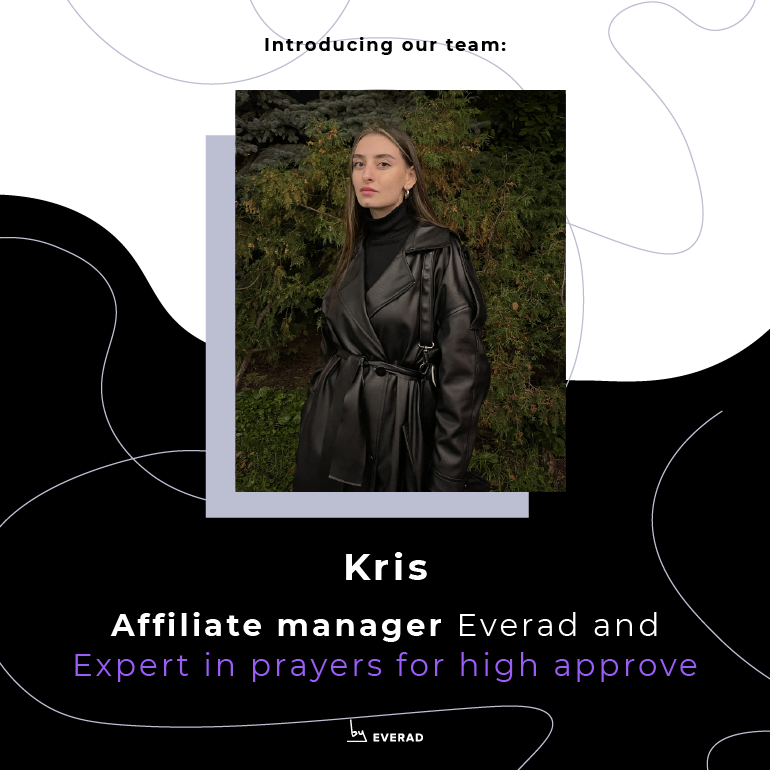 Acquaintance with the affiliate manager — Kris. Expert in prayers for high approve
Today our manager Kris is an expert in selecting the most top and converting offers with pleasant conditions for the right resource. Chris's favorite phrase is "Further — more" or "Joke funny." In honor of the second phrase, there is a tattoo, because humor is very important, especially in affiliate marketing. A working day for Kris is communication with her favorite affiliates. New launches, Everad private offers, geo, analytics, acquisition of new expertise, etc. The day goes by very quickly and productively. And it's very cool.
How many years have you been in affiliate marketing? How did it all start?
In affiliate marketing I'm still a teenager. Just over a year, but confidently heading for an adept in our industry. I started working as a support manager, and now I'm happy to be an affiliate manager!
Which GEOs are the most profitable to work with now?
There is a profit on every geo, personally I am a huge supporter of Eastern Europe. But Asia and Latin America are also not far behind. Bahrain has become a discovery – here they are ready to discuss super conditions 🙌🏻
What Everad offers would you recommend to use now and why?
A stable top and niches where it is always profitable: normalization of the cardiovascular system, controlling blood sugar, men's health. Fungal infection of the skin, venous system health and weight control are also must-haves now, because now is the season for open body parts.
What are the first steps for a newbie who just signed up with Everad and wants to get started?
Decide on the source of traffic, write to your manager, get to know each other, take our course from Affhub. With the help of the manager, select an offer and GEO for the test. In affiliate marketing, everything is especially fleeting, therefore it is important to keep abreast. You need to track thematic publics and articles.
If not affiliate marketing, then what?
B2B sales or Project Management. I really believe I was meant for this 😉
With what expectations should not go to affiliate marketing?
That there will be a quick result right away and will shoot a million dollars the first time. Arbitrage, like most areas, requires a huge amount of analytics. The manager will always help you make the first steps, but experience is gained through hard work and sometimes broken knees.
An affiliate in 2022 must:
I would give the first and main place to self-discipline. I also note perseverance, stress resistance, an analytical mindset and at least minimal communication skills. A spare budget will also be an advantage 😎
The ideal affiliate for you is…
First of all, a person who understands what affiliate marketing is 😁
In general, a person who is open to new things, to tests, understands and accepts possible risks, who not afraid of responsibility. Someone who loves Everad and my jokes so we can laugh sometimes 🙂
What are the prospects for Nutra?
Long term, forever! I have heard that Nutra has been dying for 5 years already, so for sure, but in fact this statement is just the opposite.