News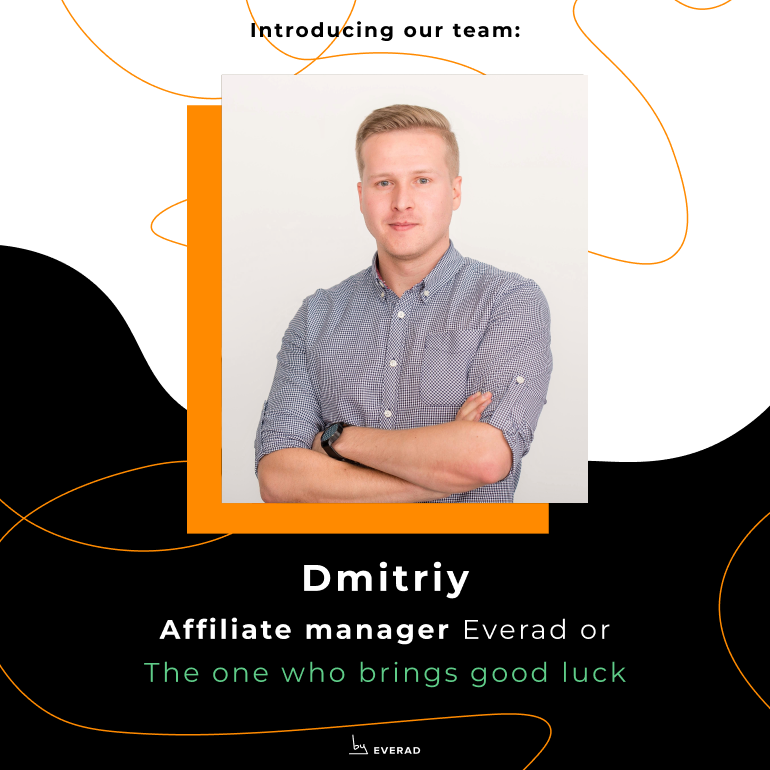 Acquaintance with the affiliate manager — Dmitriy. The one who brings good luck
Dmitriy has been with Everad for 4 years and will not stop. It was Dima's affiliates who most often won cars in Everad contests and among themselves call him "the manager who brings good luck".
During this time, Dmitriy has become an indisputable expert in establishing strong, long-term, and profitable cooperation with both single affiliate and large teams.
Read a mini interview with our manager.
How did you get started in affiliate marketing?
My journey began in 2018 when I moved from Kriviy Rig to Kyiv and radically changed my field of activity. I didn't hear anything about affiliate marketing at that moment and considered different options, both as a support manager and as a game tester at Ubisoft.
And it just so happened that despite my longstanding love of games since the age of six and my favorite series of games – Assassin's Creed, I still chose Everad.
Which GEOs are the most profitable to work with now?
I would like to pay attention to such countries as Lithuania, Hungary, Romania, and Slovakia.
What Everad offers would you recommend using now and why?
Many choose masculinity and weight correction to get their start in affiliate marketing and beyond. But the niches of cardiovascular health, men's health, and blood sugar control are clearly underestimated. As well as less common, but which should not be discounted – vision health and hearing. It is much more profitable to work with them in the long run.
What are the first steps for a newbie who just signed up with Everad and wants to start working?
Close communication with your manager is the key to success. We will help with creative examples, and translations of not only texts, but also total landings and pre-landings, we will agree on a rate from the start that will help you achieve profit from the very beginning, and we can happily chat on any topic in a friendly way.
Tell us about a case at work that you can be proud of
Three teams and one single affiliate have won cars in a row in Everad draws. Also, I have repeatedly worked with promising single affiliates, which, after our close cooperation, created teams and reached a stable high volume in the worldwide geos.
If not affiliate marketing, then what?
It's hard to say here, but perhaps it would still have something to do with the development of games on the PC and console, and maybe with rock concerts tours – there was a period of life when I actively went to concerts, but as a spectator, I saw such bands as Linkin Park, Muse, Papa Roach, Three Days Grace, Skillet, Imagine Dragons, etc.
An affiliate in 2022 should have the following qualities:
Perseverance
Curiosity
Perseverance
Sociability (both in chats and at conferences/meetups)
Stress tolerance